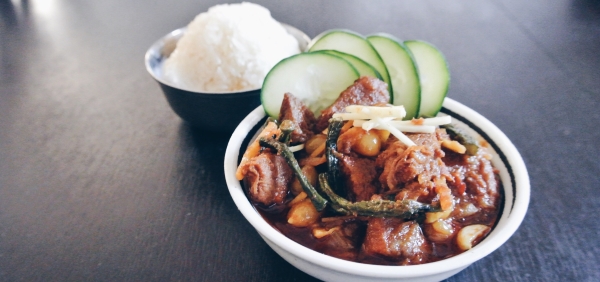 Hailing from the central plains of Thailand, Thai Kaeng Hung Le Curry is eaten with sticky rice. While it is possible to use store bought curry paste for this dish, it is even more delicious if you make the effort to many your own curry paste and curry powder.
Thailand sits at the heart of Southeast Asia. Foreign incursion and trade opened the region to new ideas and influences as early as the medieval Ayutthaya kingdom. Since that period influence from China, Vietnam, Cambodia, Japan, Europe, India and Burma have affected Thailand politically, culturally and gastromonically. The local people of the central plains, (formerly known as the Siamese, now generically as Thai), are the predominant group in the central plains. Outside of the central planes the Tai Yuan (also known as the Lannaese) prevail in the north, and the ethnically Laotian people of Isaan are a majority in northeast Thailand. These cultural and ethnic distinctions follow the lines of medieval kingdoms that bordered Siam; La Na in the north and Lan Sang to the northeast. These kingdoms were wholly or partially incorporated into the Siamese sphere of influence during the 18th century, setting the stage for the advent of the nation of Thailand. All three groups, Siamese, Tai Yuan and Laotians make up important aspects of modern Thai society and their distinct palates make up integral components of modern Thai food.
The cuisine of Thailand is as diverse as its ecosystems and people. The food of Northern Thailand (in Thai "ahan Lanna" which literally means Lanna food) is highly influenced by India, Burma and China. Dried spices, tamarind, fermented soybeans, and fresh turmeric appear time and time again throughout Northern Thailand. The largest city of the region, Chiang Mai, has the reputation of being a "food" city. Tourists actively seek out dishes like Khao Soi (a curry noodle soup) and Kaeng Hung Le (a red pork curry). Both of these dishes are greatly influenced by Burma. The Burmese kingdoms dominated the region of La Na between the 16th and 18th centuries and brought with them their own foods and spices. Many of the dried spices and curries of Northern Thailand display similar flavors and preparation techniques to modern Burmese and Indian curries. In Northern Thailand sticky rice is king. Also known as sweet rice or glutinous rice, it is the mainstay of any Northern Thai table. Much like their neighbors in the northeast, sticky rice provides sustenance for all levels of society. The rice is not only a daily staple but a method of eating for the deft hands of Northern Thai eaters. The sticky rice is shaped into a little spoon shape which is employed to and scoop up the curry.
Kaeng Hung Le is known around Chiang Mai as "Burmese curry." A homage to the origins of the dish. The name is adapted from the Burmese Hin Lay meaning "heavy curry," a nod to the rich flavor and viscosity of the broth. Hung le's origins lie in Myanmar, although the modern versions are distinctly Thai. Pork is the most popular meat in Thailand, especially in the north, and the balance of aggressive flavors in this curry are indicative of a Thai approach to food. The curry's ingredients vary from bowl to bowl, but the richness of pork, sourness of pickled garlic and tamarind, sweetness of palm sugar and aroma of dried spices remain constants. While the richness of the curry can be overwhelming, typically other dishes help to mitigate the heavy pork curry. Chili dips (Naam Phrik), cups of broth, herbs, vegetables, salads and copious amounts of sticky rice provide tangents from the rich and addictive curry. Sometimes, with enough foresight, I make a batch of Hung Leh with the intent of eating it later in the week, allowing the flavors to develop and meld together
Cook's Note: I have included a recipe for both the curry paste and hung leh curry powder. Both of these can be substituted with store bought versions. The curry paste should be a red curry paste (Mae Ploy is always reliable). The curry powder can be substituted with store bought Thai brand of Hung Le powder or mild Indian curry powder. If using Indian curry powder, add a ½ teaspoon of turmeric powder to the mix. That being said I encourage you to try your hand at making the powder and paste at home. It is well worth the effort and fosters a sense of satisfaction that makes the final dish all the more rewarding.
A note on ingredients: Many of the ingredients called for can be found at Southeast Asian groceries around San Diego county. Thuan Phat Supermarket, World Foods, Muang Lao Market, Vien Dong Market are all purveyors of quality Southeast Asian ingredients and excellent resources for items like Thai black soy sauce, pickled garlic, tamarind pulp and shrimp paste.
Curry Paste Ingredients:
8 medium sized puya chilies, soaked in warm water for 10 minutes then drained
1 teaspoon kosher salt
1 tablespoon chopped galangal root (fresh or frozen)
4 stalks lemongrass, thinly sliced
6 tablespoons shallot, sliced against the grain
4 tablespoons garlic, chopped
1½ teaspoons shrimp paste(kapi)
Curry Paste Preparation:
In a mortar, combine the chilies and salt and pound with the pestle until smooth.
Add the lemongrass and galangal and pound into a paste.
Add the shallots and garlic and pound to combine.
Add the shrimp paste and gently pound all the ingredients together until the paste is uniform and all ingredients are thoroughly combined.
Note: This process can also be done in a blender or food processor. Following the same sequence, add each ingredient and process until smooth before adding the next ingredient.
Hung Leh Powder Ingredients:
½ cup coriander seeds
6 tablespoons cumin seeds
2 teaspoons cloves, whole
1 ½ teaspoons black peppercorns
3 cinnamon sticks (approx. 3 inches each)
6 tablespoons ground turmeric
1 tablespoon ground green cardamom
1 teaspoon freshly grated nutmeg
¾ teaspoon ground mace
Hung Leh Powder Preparation:
In a dry pan on low heat, stirring frequently, toast the whole spices until fragrant, 4-5 minutes.
Remove whole spices and repeat the process with the ground spices, toasting for 2-3 minutes.
Combine both the whole and ground in a spice grinder or mortar and pestle and pulverize into a fine powder
* This Hung Leh Curry powder recipe was taken from The Night + Market cookbook by Kris Yenbamroong. This is a wonderful resource for Thai dishes, both classic and modern.
Hung Leh Curry Ingredients:
2 tablespoons vegetable oil
1 ½ pounds boneless pork shoulder, cut into 1 ½ inch chunks
½ pound skinless pork belly, cut into 1 ½ inch chunks
¼ cup (1 ounce) small shallots, peeled
3 tablespoons Hung Leh powder
3 tablespoons fish sauce
2 tablespoons Thai black soy sauce
2 ounces palm sugar, chopped
2 tablespoons pickled garlic liquid
2 cups water
3-4 tablespoons peeled ginger, julienned
½ cup roasted unsalted peanuts
5 tablespoons tamarind water**
15-20 cloves of pickled garlic
2 cups (4 ounces) Chinese long beans, trimmed and cut into 1-2 inch lengths
** Making tamarind water: Combine 4 oz tamarind pulp with 2 cups of water in a small saucepan. Bring to a boil of medium heat and boil for about 10-15 minutes. Remove from the heat and allow the mixture to cool slightly before straining through a fine mesh strainer. Gently press on the pulp to extract all the liquid before discarding the leftover pulp.
Hung Leh Curry Preparation:
Combine the pork and pork belly with the curry paste and 2 tablespoons of the curry powder until the meat is thoroughly coated. Allow the mixture to marinate for at least two hours and up to overnight.
Heat the vegetable oil in a medium-large pot over medium-low heat until shimmering.
Add the marinated pork to the pot and cook until fragrant, 3-4 minutes. Don't worry about overcrowding the pan; you are not trying to brown the meat.
Add the shallots and remaining curry powder to the pot and stir to combine. Allow the shallots to cook for 2-3 minutes, stirring occasionally.
Add the black soy, fish sauce, pickling liquid and palm sugar, increasing the heat slightly to a simmer.
Once the sugar has dissolved, add the 2 cups of water (the pork should be submerged, but only slightly) and the tamarind water.
Increase the heat to high and bring the liquid to a steady simmer, then reduce the heat to low and cover.
Simmer the mixture for about 45 minutes before stirring in the ginger and peanuts.
Continue to cook at a steady simmer without the lid until pork is tender but not falling apart. The liquid should have thickened slightly, but should still be fairly soupy, about 45 minutes to 1 hour more.
Stir in the pickled garlic cloves and long beans and let cook until the beans are tender yet retain their crunch, about 5-10 minutes.
Turn off heat and allow the flavors to mingle for 15-30 minutes, or serve immediately in a communal bowl accompanied by fresh veggies like sliced cucumber, radishes or green cabbage and copious amounts of sticky rice.
Recipe and photo by Liam Fox
Keep informed about San Diego Events!
Sign-up for our weekly Eblast by clicking here:
Sign Me Up!