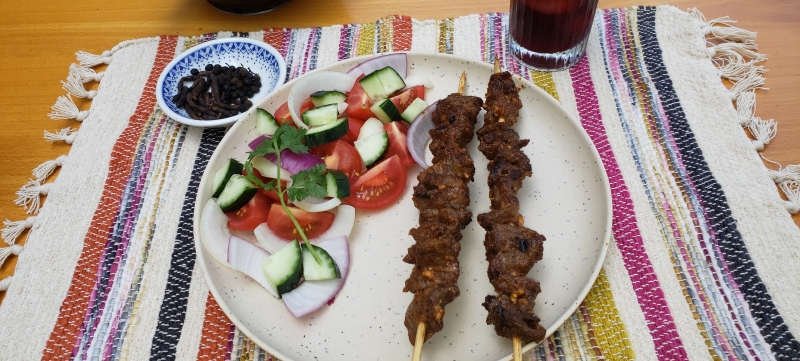 The recipe of the month is Beef Suya, a popular Nigerian street food. Suya is a spicy kabob made of either beef, lamb or chicken that are best grilled on a barbeque. Suya kabobs are most often associated with the Hausa of northwestern Nigeria (and South Niger), but similar kabobs can be found throughout West Africa. The Hausa (sometimes call "mallams") are a Muslim ethnic group and, as such, suya are prepared by halal methods. In addition to being farmers and pastoral nomads, the Hausa often work as itinerant traders and therefore kabobs are  found throughout Nigeria and enjoyed by all. As such, suya is not confined to the north; there are suya street vendors (known as "mai suya" (suya men) found in cities throughout the country. There are also "suya bars" where people can go after work to unwind and eat suya with friends and co-workers.
Although beef is the most common meat used for suya, it can also be made with chicken, lamb, goat, shrimp or organ meats such as liver. The major ingredient in the coating (the rub) applied to the meat is ground peanuts. The spice mixture added to the ground peanuts is called yaji. Some internet commentators have claimed that the most authentic Suya uses a crumbled up Kuli-kuli bars (not to be confused with the Kuli-kuli smoothies), a popular Nigerian peanut snack bar. The ingredient list for yaji varies a bit, but basic inclusions are ground roasted peanuts, paprika (sweet or hot), ground ginger, ground chili powder (such as cayenne), garlic powder, onion powder, salt and pepper.
Our recipe includes two ingredients that are specific to West Africa, "grains of selim" (aka grains of paradise or uda seeds) and ground cubeb pepper. Both are available on Amazon, but a bit on the pricey side. It is possible to buy Suya (or yaji) seasoning on Amazon as well, but most have ground peanuts in them so each package might only make one meal. Inya foods sells the spices without the ground peanuts, but their mixes are only 2 ounces (approximately 4 tablespoons).Yet another option is that you can buy a pound of kuli-kuli crackers on Amazon as well.

Again, suya is a street food, it can be prepared at home, but rarely is. Thankfully, suya does not require any special equipment, just a barbeque grill of some sort.

Zobo is a drink that has many names (roselle, bissap, sorrel, agua de Jamaica etc.) and the hibiscus petals (hibiscus sabdariffa) it is made from are used for drinks in Africa, South Asia, Thailand, South and Central America and Mexico. In West Africa it is served cold, but a similar drink (karkade) is enjoyed warm in Egypt. Zobo is made from boiled hibiscus leaves with pineapple, ginger and sugar. As the concoction is boiled and then strained, you can husk the outer peelings of pineapple skin instead using pineapple juice.

Ingredients:
1 pound beef flank or sirloin steak (makes about 6 skewers)
For the Yajin Kuli:
3 tablespoons peanut oil
1/2 cup roasted groundnut/peanut butter powder (40g) (see note)
1 tablespoon ground ginger
1 tablespoon sweet paprika
1 tablespoon onion powder
½ to 1 tablespoons of salt
1 teaspoon garlic powder
1 teaspoon cayenne pepper powder
1/2 teaspoon ground grains of selim or grains of paradise (optional; see note) Find on Amazon.com
1/2 teaspoon ground cubeb pepper (see note, find on Amazon.com)
1/4 teaspoon ground cloves
For Serving:
Red onions (the sweeter the better), thinly sliced (sweet yellow onions are fine too)
Small tomatoes, quartered
Cucumber, sliced and quartered
Preparation:
Soak skewers in water.
Cut the beef across the grain to create strips two inches long, one inch wide and 1/8 - 1/4 thick. Semi-freezing the beef beforehand (put uncut beef in freezer for 30 - 40 minutes) might make this easier.
Grind the peanuts. The oil in the peanuts will prevent the peanuts from becoming powdery, the end result will be a little bit chunky and that's what it should be.
Thoroughly mix the ground peanuts and spices for the Yakin Kuli together. You will have more than you need and you can save the surplus in the refrigerator.
In a bowl, thoroughly mix beef, two tablespoons of peanut oil and 1/2 cup of Yakin Kuli together.
Refrigerate seasoned beef for 30 minutes or more (the more the better—I actually left ours for a day and all was good).
Fold and skewer the beef (see photo).
Grill on a barbecue grill until the meat is slightly charred on all sides. A charcoal grill is best but gas fired is okay.
Serve with tomato wedges, cucumber slices and sliced red onions. Cultural note: Per capita, North and West Africa consume the most onions in the world!
Zobo Ingredients:
2 1/2 cups of dried hibiscus flowers
Outer peels of a pineapple or 1 cup of pineapple juice
4 ounces of peeled and sliced ginger root
2 - 3 cups of sugar
12 cups of water
Zobo  Preparation:
Combine all the ingredients except the sugar in a large pot and bring to a boil.
Turn down heat and simmer for 30 minutes.
Add sugar and test for sweetness adjusting according to your own tastes.
Let cool and strain out the solids.
Served chilled with ice.
Enjoy! Recipe and photos: T. Johnston-O'Neill
Details

Hits: 2603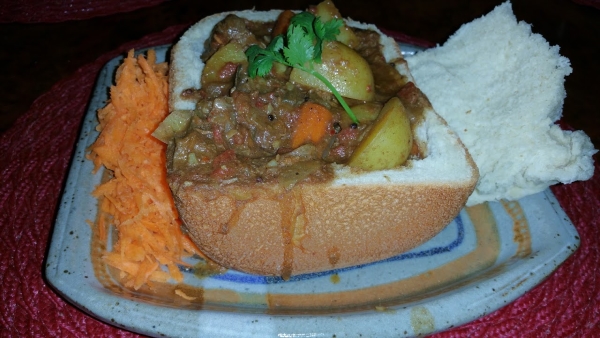 South African Bunny Chow is found as a street food, in fast food joints, or even upscale restaurants, Bunny Chow is a curry dish that is served in a hollowed-out loaf of white bread. Bunny Chow is properly eaten with the hands with gusto and good conversation. Rabbit is not an ingredient in Bunny Chow, and if you use less chili, this might be a great dish to serve your kids!
Bunny Chow hails from the South African city of Durban which sits on the country's east coast. Durban is South Africa's third largest city and it is home to one of the largest populations of Indian descendants outside of India. Durban was selected by the New7Wonders Foundation as one of the seven cities in the world that "best represent the achievements and aspirations of our global urban civilization." One of the city's charms is that it is very cultural diverse. The city also was selected for a "Traveler's Choice Award" from Trip Advisor, in part due to its wide sunny beaches and other natural beauties.
The origins of Bunny Chow are rather recent (1930's to 1940's, but the exact history is unclear). It is thought that the name "Bunny" is derived from the Indian caste-name of bania a merchant caste that is most associated with the Bengal region of India. A popular account claims that during South African Apartheid, people of color were often excluded from many eating establishments and Bunny Chow was created to feed Indian laborers who could only buy "take away" food. Some say it was first prepared and sold from the G.C. Kapitan Vegetarian Restaurant on Grey Street.
In everyday parlance, people refer to the dish simply as "a bunny." The original Bunny Chow was probably strictly a vegetarian dish and still today a very popular version is a "Bean Bunny." Butter beans are often used. The most popular version today is, however, based on a lamb curry. Beef or chicken curries are also widely used. The bread used is simple white bread which is carefully hollowed out (the goal is to have a single chunk of bread removed). The bread hollowed out from the center is called the "virgin" and is served either on top of the bunny or on the side. Small pieces of the virgin are torn off and used to scoop out the curry. After the virgin is gone, the bread containing the curry is torn off for the same purpose. It is also normal to eat the bunny curry directly with your fingers and making somewhat of a mess is par for the course. The improper way, and perhaps cause for social disapproval, is to eat the bunny with a fork or spoon, as it is by nature a causal eating experience. Loaves of bread can be whole, cut in half, or the most popular kota quartered. It is not uncommon to share a single bunny with friends seated around it. Finding a loaf of white bread that is unsliced might be difficult here in San Diego, so we baked our own 2-pound loaf in a bread machine and it worked just fine. Using sourdough rounds such as those that are used in chili or clam chowder "bowls" is certainly a possibility. Below is just one version of a curry. How you spice the curry is up to you. Bunnies should have a bite (but perhaps not as vicious as the rabbit in Monty Python's "Search for the Holy Grail"! In Durban, Bunny Chow typically doesn't scrimp on the ground or fresh hot pepper. Various forms of Garam Masala and curry powder are used; experiment and find out what works best for you. If you are making a lamb or beef bunny, it will take up to 2 hours of cooking before the meat is tender. If using beef, opt for chuck (often the cheapest cut) of beef. Paradoxically more expensive fat-laden cuts of beef will end up being tough and overly chewy. Pieces of beef or lamb should be on the large size, not small chunks. Two or more bites to a piece are better than one.
The curry can be prepared in any large pan that has a lid. We used a Dutch oven, which worked brilliantly for this dish as the heat is well distributed. The curry should be very saucy, so when the bread becomes soaked with the sauce it becomes unbelievably delicious. Add water (or beef stock) to ensure that you have a sufficient amount of liquid. Spices can be cooked in oil at the begriming of the preparation or you can roast them whole beforehand. Just don't burn the spices because then you will have to start over. As mentioned above, spices used vary from cook to cook, if you can't locate a particular spice or ingredient , just soldier on! Bunny Chow is often served with a carrot salad, basically shredded carrot with a bit of vinegar and optionally onion, finely chopped chilies and/or cilantro.
Ingredients:
2 pounds of beef (chuck ) cut irregularly into 2-inch chunks
1 large onion, diced small
3 tablespoons of oil (we prefer ghee), if you use olive oil, use light (not extra virgin)
2 bay leaves
4-5 curry leaves
3-4 pieces of whole star anise
1 piece of whole cinnamon
1 teaspoon of cumin seeds
1 teaspoon of black mustard seeds
3-4 green cardamom pods or two teaspoons of cardamom powder
1 tablespoon of Garam Masala
1 tablespoon of curry powder
2-3 teaspoons of chili powder (like cayenne), adjusted for hotness of chili and diner's tolerance
1 14-once can of diced tomatoes
1 2-inch piece of fresh ginger, peeled and minced fine
3-4 cloves of garlic minced fine
1-2 pounds of potatoes (we quartered small whites). Note: if using Russets, cut down on the cooking time.
2-3 large carrots, peeled and cut into 1 1/2 inch chunks
Preparation:
If you are making you own bread, do so first (or start if using a machine).
Mince the garlic and ginger and set aside.
Heat the oil in a large pan or pot to medium high.
Add the bay leaves, curry leaves, anise, cinnamon stick, cardamom pods (if using whole), cumin seeds and mustard seeds to the pot.
Cook the spices until the mustard seeds begin to pop.
Add onions and cook until they nearly turn brown (stir frequently).
Add minced ginger and garlic, Garam Masala, curry powder, chili powder, and cardamom powder (if not using whole).
Add beef and cook until lightly browned (don't obsess over this!).
Add diced tomatoes and stir.
Bring to a boil, and then cover and set heat to low.
Cook for 1 hour, stirring occasionally, and then stir in the potatoes and carrots.
Cook for another hour, stirring occasionally, making sure it doesn't burn and adding water or stock to ensure there is a goodly amount of liquid.
When the meat is tender, remove from heat.
Cut the loaf of bread so that you have pieces that are 3-5 inches tall.
Cut around the inside of the bread 3/4 of an inch from the outer crust to a depth that leaves about 3/4 inch of bread on the bottom. In other words, don't cut all the way to the bottom!
Reach into one of the cuts and gently scoop out the interior with the goal of removing it in one peace. Steady as you go; you might need to use a knife to cut away the bread from the bottom of the cut.
Fill the bunny with the curry. Don't be too Martha Stewart here, flamboyance is ok with curry sauce spilling over the sides or even pooling at the bottom of the plate!
Serve with the "virgin" (the center of the bread) and vinegar-laced shredded carrots as described in the text.
Enjoy Your Bunny!
Recipe by T. Johnston-O'Neill
Photo by Shari Johnston-O'Neill
Details

Hits: 1774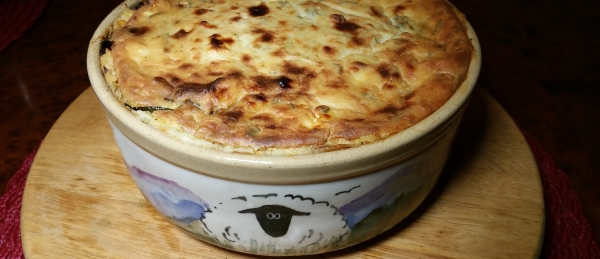 Chaniotiko Boureki from Crete is casserole made from yogurt, potatoes and zucchini and a batter made from soft cheese and yogurt. A great vegetarian dish for a potluck or a family dinner! It is delicious either warm or cold.
Crete is the largest and most populous of the Greek Islands. Crete was the center of Minoan civilization (c. 2700-1420 BC). Ancient Minoans wrote in a script referred to today at "Linear A," and it has not yet been deciphered. Throughout later times, Crete was under Roman, Byzantine, Venetian, and Ottoman rule. The north central city of Heraklio is its present day capital. Although similar to Greek culture, Crete also maintains distinct forms of poetry, music and even everyday styles of clothing. Many well regarded authors are from Crete, including Nikos Kazantzakis, author of Zorba the Greek, and the poet Odysseas Elytis, who won the Nobel Prize for Literature in 1979.
The small picturesque city of Chania (or Haniá), where this dish hails from, is located on the northwest coast. Much of the town was built around the Venetian harbor that was built in the 14th century. The most attractive section of town is the Old Town area, which although bombed heavily during WWII, much of what was destroyed has been rebuilt. Old Town has several distinct neighborhoods including the Jewish Quarter, known as Evraiki. Cultural activities, including plays concerts, cinema, festivals and sports events are very popular particularly in the summer months. Traditional music, chamber music, emergent alternative music and jazz are all popular. However, most people live and work in Nea Hora (lit. New Town). The newer part of town is less architecturally interesting and modern, but some neo-classical building can be found there as well. Two of the most impressive sites are the Public Market and the Public Gardens, which sit right next to each other. The Archaeological Museum of Chania houses a great number of ancient artifacts.
One source suggests that the average family in Chania might partake in this dish a couple of times a month during the summer, but it is rarely found outside of the region. There appear to be three different methods for preparing Chaniotiko Boureki. Some recipes call for simply layering ingredients, finishing up with a healthy amount of cheese that will coat and meld with the other ingredients during cooking. Other methods include enclosing the entire dish in filo dough, making a sort of filo encrusted pie. One can make a batter infused with cheese that will melt and then solidify. Some recipes call for coating the zucchini and potatoes with either olive oil or flour before baking. Lastly, some recipes call for frying the potatoes and zucchini before assembling the casserole, although more commonly they are added raw to the assemblage. It is an extra step to fry things first, but we think it should add some extra flavor, and it cuts down on the cooking time. The ingredients are all similar, so choose the method that fits your tastes.
Ingredients:
1/2 cup olive oil
2 pounds of potatoes, very thinly sliced (1/8th inch)
3 zucchini, thinly sliced (1/4 inch)
1 onion, chopped fine
3-5 cloves of garlic, pressed or crushed
2 ounces sun dried tomatoes.
1 cup Greek plain whole milk yogurt
1/2 cup milk
1/c cup flour
1 teaspoon baking powder
3 tablespoons fresh mint, stems removed and chopped fine, or 1 tablespoon dried mint
2 tablespoons grated Myzithra cheese
1/2 pound feta cheese
15 ounces whole milk Ricotta cheese
Salt and pepper to taste
Preparation:
Peel and slice the potatoes and zucchini very thin and then set aside.
Chop or slice the onion fine.
Heat the olive oil in a frying pan.
Fry the potatoes until lightly browned (in batches).
Fry the zucchini until lightly browned (again, in batches).
Saute the onion for 3 minutes.
Add garlic to onions and and sauté for additional 2 minutes.
In a large bowl, mix together ricotta, Myzithra and feta cheese with flour, baking powder, yogurt, chopped mint, salt and pepper. Add milk to make a thick, but flowing batter.
Preheat oven to 350°F.
Make alternating layers of:
potatoes
zuchinni
sun dried tomatoes
onions
batter
Repeat until ingredients are used up. Note: the top layer should be all batter.
Bake in oven until the top turns golden brown (about 45 minutes)
Recipe by T. Johnston-O'Neill
Photo by Shari Johnston-O'Neill
Details

Hits: 1963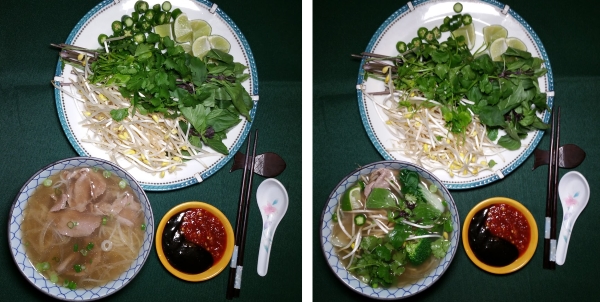 Phở Before and After Adding Garnishes
Although Phở is considered a quintessential Vietnamese dish, it does not have a very long history in Vietnam. It embraces French, Vietnamese and Chinese culinary roots. Before the French colonial times (1858 - 1954), beef was not a significant part of the Vietnamese diet. Pork and chicken were. Many popular foods in Vietnam evolved from this colonial experience. Another is the delicious Bahn Mi sandwich and a plethora of pastries. As hearty as Phở is, in Vietnam it is not commonly eaten for either lunch or dinner, but instead later at night (after 9 or 10 PM) or in the morning. In Vietnam and in many restaurants in the US, diners can choose what "meat" they wish added to the Phở before it is served. In the US, Phở Tai, which has finely sliced sirloin, is quite popular, but one can also get longer-cooked brisket, tendon and tripe. In Vietnam you will also be able to find stomach (different than tripe), oxtail shoulder, lungs, brains, udder and even male genitalia.
Vietnamese is a tonal language with the number of tones varying regionally from four to six tones. The tone for the final "o" in Phở is a rising tone. Until the beginning of the 20th century, Vietnamese was written with modified Chinese characters. Under French rule, the writing was Latinized. Tones are marked by diacritical marks. The pronunciation of Phở also varies from region to region, but if you pronounce it as "fuh" ending off like one does when asking a question in English, you will get closer than saying "fo." The basic meaning of the word Phở references the noodles, not the broth or other ingredients. Mimi Sheraton, writing for the Smithsonian Magazine, claims the word is taken from the French word "feu" (lit. fire) as in pot-au-feu, a French beef and vegetable soup.
he broth is the star player in this culinary drama. Typically joints of beef are cooked for many hours to develop the full flavor desired. Most commonly beef is used, but Phở can also be made with vegetable or chicken broth. Phở broth should be well colored (not weak or too dark), but clear. If you only boil the meat without other measures, you will get a cloudy soup with foam on top. This is not desirable esthetically or taste-wise. For all intents and purposes, the goal is to create a consommé. We were unable to find any sort of pre-prepared beef stock or consommé that did not include many ingredients what seemed rather industrial sounding. The French method is to repeatedly strain the broth through layers of cheesecloth. Sometimes whipped eggs whites (3) are added to the broth. The egg whites will bond to the other proteins and undesirable sediments exuded from the boiling beef. These methods are effective but time-consuming and a bit messy. For this recipe we boiled the beef vigorously in one pot for five minutes, then removed the beef with tongs, briefly rinsed off pieces under running water and then added the beef to a different pot of boiling water. The longer the meat cooks, the darker and more flavorful the broth, 6-24 hours is a good range. While Phở is relatively easy to make, you must plan ahead because it takes a very long time to make the broth. Some cooks have resorted to pressure cookers to speed up the process, but cooking everything in a large crock pot as we have done is perhaps the easiest method and safer than leaving a simmering pot on the stove for a long time.
There is some debate over the proper way to eat Phở. If you have never eaten Phở, you might be confused by the way it is served. The broth, noodles, meat and sometimes vegetables are in one bowl; and then you will get a plate of mung bean sprouts, Thai basil, cilantro, sliced medium-hot peppers (like Serrano) and lime juice. If you are ordering or making Phở Tai (with thinly sliced round steak), the meat will be added to the hot broth right before serving, or you can request it as a side order. This ensures that the beef will be tender as it never is toughened by boiling. The side vegetables will all be fresh, and they are added to the hot soup immediately after it is served. Strip the leaves off the Thai basil stems and also remove the thick part of the cilantro before mixing into the soup. Add the sprouts, peppers and a healthy squeeze of the lime. Mix and push down all the ingredients so that they gently cook in the hot broth. The next part is likely to cause some debate with Phở fanatics. Chile sauce (either Sriracha, Sambal Olek or similar) are used to further flavor the soup, but not necessarily directly. The uninitiated (and I confess that has included me!) might simply mix these sauces into the soup. However, Vietnamese people are more likely to put the sauces in separate sides of a small shallow bowl. Then with the help of chopsticks, pile as much of the Phở onto the spoon as can be managed reasonably and then dip the ends of the chopsticks into one of the sauces, then dab the sauce on the spoonful of Phở before eating. Intersperse this activity with spoonfuls of broth so that your palate is cleared for the next round. This makes Phở eating a two-handed affair. My guess is that by eating it this way the ingredients retain their separate flavors and the broth, which takes hours to prepare, keeps its visual and taste clarity. This recipe is for Phở Tai, which uses thinly sliced beef. The beef is not cooked on the stove; it is placed in the hot soup just before serving. In a couple of minutes it will be cooked. I like Phở with added vegetables like broccoli and bok choy, but these are optional and perhaps uncommon to the dish.
Phở doesn't require any special techniques to cook, but it does require close attention and speed for the last several steps. All of the ingredients except for the broth are "cooked" in the soup after it is removed from the stove. If these steps are not done quickly, the soup will cool too fast and everything will be under-cooked. If you eat Phở in a restaurant, they will frequently warn you to be careful because the bowl will be hot. Read the preparation directions over closely so that you familiarize yourself with the steps required before you proceed.
If you in a hurry and want to partake in a quick bowl of pho, we recommend Phuong Trang on Convoy Street where you will find great Phở and over 200 other menu items of Asian food (not just Vietnamese).
Ingredients:
Note: all of these ingredients can be found in a large Asian supermarket such as 99 Ranch Market in Kearney Mesa. (note they now have an additional location on Balboa Street next to the Target store)
For the Soup Base
2 pounds of oxtail beef
1 pound beef chuck cut into quarters
1 3-inch piece of ginger peeled and sliced thickly
1 yellow onion chopped coarsely
2 tablespoons Vietnamese fish sauce
5 whole star anise
5 whole cloves
1 tablespoon salt
Added Before Serving
1 pound Vietnamese Phở noodles (either fresh or dried)
1/3 pound eye of round sliced very thin
(Note: available pre-sliced at 99 Ranch)
1/2 pound of broccoli cut into small florets (optional)
1/2 pound of baby bok choy cut into single leaves (optional)
1/2 yellow onion, sliced very thin
1 scallion, sliced very thinly
Added at the Table
1 bunch of cilantro
1/2 pound bean sprouts
1 bunch or Thai basil
3 Serrano chilies sliced into 1/4" rings
1 lime, cut into eights
Sriracha sauce (or other chili-based sauce)
Hoisin sauce
Preparation
In a stockpot or large crock pot, heat 3 quarts water to a boil.
Add oxtail and beef chuck to a large pot and add sufficient water to cover.
Bring pot to a vigorous boil and boil for 5 minutes.
In a different pot or a crock pot, add 3 quarts(12 cups) of water and turn on high.
After the beef has boiled for 5 minutes in the first pot, remove with tongs, rinse briefly under flowing tap water and then transfer to the crock or stock pot).
After the pot or crock pot comes to a boil again, reduce heat to a gentle simmer (or turn crock pot on low).
Simmer beef for 4-24 hours (the longer the better).
Two hours before the end of the simmering, do the following.
Skim the top of the pot to remove any fat or foam.
Add the ginger, onions, fish sauce, anise, cloves and salt.
Simmer for an additional 2 hours.
Remove all the solids with a slotted spoon.
With a ladle, skim as much fat as you can off the top of the broth.
Strain the broth through a fine-mesh strainer or through several layers of cheesecloth (I also tried using a coffee filter, but no joy).
Boil a pot of salted water.
Cook the broccoli for 2 minutes (no longer!) in boiling water, remove and set aside.
Boil the bok choi for 1 minute, remove and set aside.
Pour the remaining hot water into the serving bowls to preheat them.
In a condiment dish, cover half the bottom with Sriracha sauce and the other half with hoisin sauce
Arrange sprouts, cilantro, Thai basil, chili slices and lime quarters on a plate or small platter
If using dry noodles, soak for 30 minutes in cold water
Bring a large pot or wok of water to a boil
Bring the broth to a boil
Put a cup and a half of noodles on a large strainer spoon and dip into the boiling water for 10 seconds
Empty the water from the serving bowls.
Transfer the noodles to a large soup bowl. *
Fill the bowl 3/4 full with broth.
Add the sliced scallions, a piece or two of broccoli, a piece or two of the broccoli, a small amount of the sliced onion and finally 2-3 pieces of the thinly sliced beef in the bowl.
Serve immediately!
* Cook's note: All these steps should be done rather quickly. If you drain the noodles and let them sit for more than a few seconds, they will stick together and you will have to rinse them in cold water. If you do that, the noodles will bring the temperature of the soup down too much and the beef and other ingredients will not cook sufficiently.

At the table:
Each diner adds sprouts, cilantro. Thai basil (leaves only), a few chili slices and a squeeze of lime to their bowl.
It takes a minute or two for the added ingredients to soften just a bit.
Each diner should have a spoon and a pair of chopsticks
Recipe: T. Johnston-O'Neill
Photos: Shari K. Johnston-O'Neill
Details

Hits: 1592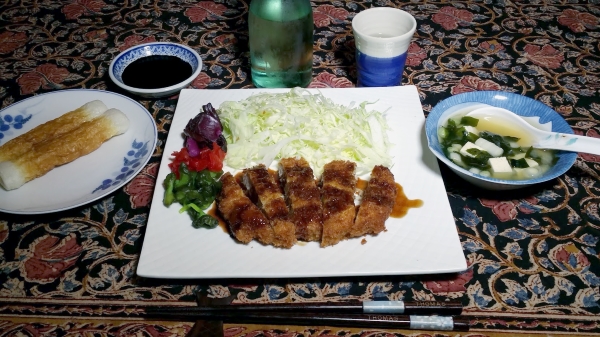 The way Tonkatsu is written in Japanese (豚カツ) is a clue to its history. In Japan there are three writing systems (four if you consider "romangi" or Latin characters). The oldest system is based on Chinese characters and is known as kanji. While Chinese and Japanese have completely different oral languages, they share a common system of writing that allows readers of either language to, at least occasionally, decipher the meanings of written words despite the differences in speech. Japanese also employs two separate phonetic alphabets, hiragana and katakana. Hiragana is used to spell words that are assumed to have Japanese origins. In modern times, Japanese do not learn all the kanji for words; and those kanji that are no longer taught are replaced by hiragana instead. The more visually angular alphabet known as katakana is used for new words and words assumed to be foreign or international in origin. The Japanese spelling of Tonkatsu finds the first part "ton" (pork) written in kanji (Chinese characters) and the second part (cutlet) is normally written in katakana, the alphabet reserved for foreign words. "Katsu" is a shortened version of katsuretsu which is a Japanese approximation (or rendering) of the word "cutlet." Fried cutlets (originally beef, but now more commonly pork) were introduced to Japan in the late 19th century. I was then considered to be a "yoshoku" (Western style, contrasted with washoku, traditional Japanese style) dish that was first introduced to Japanese during the Meiji Restoration; but over the course of time the dish and the manner in which it is served has become a mainstay of Japanese culinary fare.
Tonkatsu is an extremely easy to prepare dish and differs very little from breaded and fried pork cutlets found everywhere. What differs are the other food items that are served with it that sensually contrast and compliment the cutlets. Boneless pork loins are pounded (have a good whack at them!), salted and peppered, dredged first in flour, then beaten egg and finally panko bread crumbs before they are pan fried golden brown. Most typically, Tonkatsu is served with finely shredded green cabbage, a bowl of miso soup and sliced tsukemono pickles. The fried cutlet is also adorned by streaks of tonkatsu sauce, which comes in a number of different tasting varieties. Panko bread crumbs ("pan," which rhymes with "bon" in bonfire, is borrowed from the French word for bread) are a bit larger than what is commonly sold as bread crumbs in the U.S. Miso soup is ubiquitous in Japanese meals (breakfast, lunch and dinner), and an "old school recipe" for miso soup can be found in our recipe archive. The finely shredded cabbage can be soaked in salted ice water to remove any bitterness and to make the cabbage crunchier. The cabbage we used was not particularly bitter, so doing so make only a very small difference. Tsukemono pickles are made from a variety of different vegetables (and they are all delicious), but the most common variety is made from small cucumbers. Tsukemono pickles are crisp and crunchy, and the vinegar they are pickled in is very cleansing to the palate if you are eating fried foods such as tonkatsu. Major brands of tonkatsu sauce that can be found here in America are Kikkoman and Bulldog brands. Recipes for homemade tonkatsu sauce found around the Internet are often simply tomato catsup mixed with Worcestershire sauce, but ready-made Japanese sauces such as the brands mentioned above add apple, prune and other fruits to the sauce. As always, we recommend experimenting to find the sauce that best suits you because everyone's sense of taste differs.
In addition to the most common way of serving tonkatsu, the food is also enjoyed in other ways. Katsudon is a rice dish that consists of rice, tonkatsu, egg (barely cooked), scallions and a thin sweet soy-based sauce. Tonkatsu is also served with (and some say is more traditional) with Ponzu sauce and finely grated daikon (Japanese radish). Ponzu sauce being prepared with bonito fish flakes (katsuobushi), soy sauce, mirin (sweet sake), and one of a variety of citrus juices. Tonkatsu is also good for sandwiches (cultural note: like in the British Isles, Japanese sandwiches are crustless), and is also eaten in a curry sauce. For those who have dietary restrictions or proclivities that preclude them from eating pork, chicken and/or beef can be substituted in tonkatsu. If any of our readers can suggest a vegetarian substitution, we might add that as an option.
Ingredients:
1 pound of pork loin cutlets
1 cup of all-purpose flour
2 eggs (lightly beaten)
1 cup of panko bread crumbs
cooking oil (Canola, peanut or Japanese rice-bran oil)
1/4 head of green cabbage
1 package of tsukemono pickles
tonkatsu sauce (see below for making your own)
Preparation:
Remove the solid core from a 1/4 head of cabbage and shred the cabbage very finely (using a mandolin works best, but be careful!).
Soak cabbage in a salted ice-water bath and set aside.
Pound the pork cutlet with a meat tenderizer mallet or some other heavy object. Give it a good pounding! If you wish to be a bit more cautious, place the pork under a sheet of plastic wrap or a plastic food storage bag.
Lay out three shallow bowls or containers with flour in the first, the lightly beaten eggs in the next and then the panko bread crumbs in the third.
Heat 1 inch of oil in a frying pan under medium heat (350°F). You can start with the oil a bit hotter as it will cool down when the cutlet is place in the oil.
Salt and pepper both sides of the cutlet (please note: I prefer to mix salt and pepper into the flour--as I do when making fried tomatoes--because it saves time and is less messy.)
Thoroughly coat the pork cutlet with flour.
Dredge the floured cutlet in the egg, flipping it over more than once to get full coverage.
Coat the cutlet with the panko crumbs. Again, you may have to flip it over several times and press the panko onto the cutlet in any places where the coating is lacking.
Fry the cutlets on both sides in the oil until golden brown. Using a small pan and cooking the cutlets one or two at a time is more manageable.
Place the tonkatsu onto a wire rack to drain excess oil.
Remove and drain the shredded cabbage from its ice bath.
Serve the tonkatsu on a bed of the cabbage or beside the cabbage.
Generously festoon the tonkatsu with ribbons of tonkatsu sauce.
Tonkatsu Sauce:
Mix the following ingredients in a bowl:
1/2 cup Worstershire sauce. Note: Japanese "Worchester" [sic] sauce is fruitier, sweeter and less savory. Surprisingly it also does not contain any fish sauce.
1 cup of tomato catsup
1/cup of sugar or 1/4 cup of honey
Cook's notes:
Many folks use paper towels to drain fried foods, but this is not optimal. The food will be crispier if you use a wire rack, and it is more environmentally friendly. I haven't tested how much oil drains from the respective methods, but using a rack does not make the food taste any oilier, so my guess is this is not the issue it might seem to be.
Tonkatsu is best when it is still hot, so serve it as soon as it is drained.
If the oil is smoking at 350°F, then you are using an oil with too low of a smoking point. Remember that oil smoke is toxic to humans and other animals! If the oild starts smoking, lower the heat and turn on the range fan!
If you are cooking more than 3 or 4 cutlets and the crumbs accumulate in the pan, drain the oil into another vessel through a fine wire strainer and then return the strained oil to the frying pan.
Temperature control is the secret to good frying. Invest in a good cooking thermometer that ranges above 300°F or buy a cheap infrared temperature gun (which are nice things to have for a variety of reasons).
If you are serving tonkatsu for a party, it looks best if the cutlets are arrayed slightly fanned out over the shredded cabbage.

Itadakimasu (頂きます)! Let's Eat! (lit. I humbly receive)
Recipe by T. Johnston-O'Neill
Photo by Shari K. Johnston-O'Neill
Details

Hits: 1792