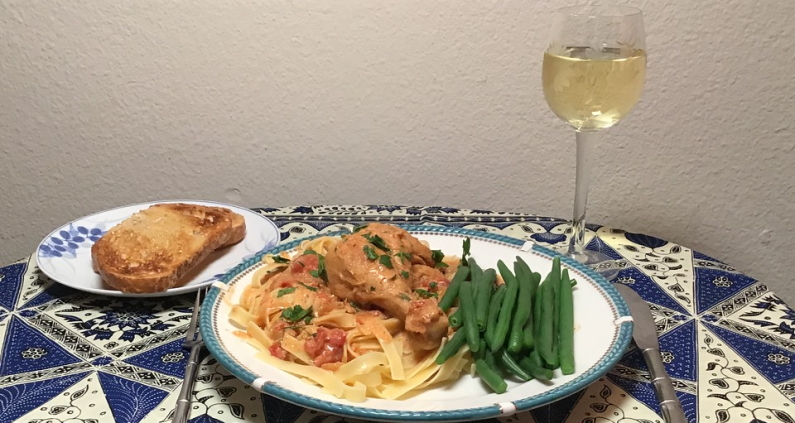 Hungarian Paprikás Csirke or "Chicken Paprikash requires only a few ingredients and simple to make, this is a great dish for when the weather turns chilly. As mentioned in our previous recipe for Goulash, Hungarians are rather fond of growing and consuming paprika. Please refer to that article for more cultural information about Hungary and its food. Many recipes for Paprikash stress that, unlike many other spices, paprika is best when it is relatively new. If you have an old can or jar of it that's been sitting in your kitchen cabinet for a while, it is advisable to purchase new. Paprika adds color and flavor to dishes, but the color will outlast the flavor if stored for a long time. This dish depends on the flavor of the Paprika. It can be either spicy or sweet paprika, or a combination of the two. Spicy paprika is very mild in comparison to chili powder, but it does have a little bite. If you only have the sweet variety, a pinch of cayenne powder with spice the dish up. Smoked paprika is another option. For a regional variation you can finely chop a red pepper and cook it with the onions. Many people enjoy the Pride of Szeged brand, which can be bought on Amazon.
Ingredients:
3 to 4 pounds chicken thighs and drumsticks, or whole chicken legs skin-on
1 tablespoon oil, or lard
1 large yellow onion, peeled and diced
3 cloves garlic, peeled and minced or crushed
3 tablespoons Hungarian paprika (Sweet or Hot), the best you can find.
3 tablespoons all-purpose flour
14 ounce canned crushed or finely diced tomatoes
1 cup chicken broth/stock
1 cup sour cream
Salt and pepper to taste
1 pound of egg noodles
2 tablespoons unsalted butter
1/4 cup Italian parsley finely chopped
Preparation:
Heat the oil or lard to medium-high heat in a Dutch oven or large heavy frying pan.
Working in batches, brown the chicken on all sides.
Set fried chicken pieces aside.
Turn the heat under the pan to medium.
Sauté the onion in the pan for 4 minutes.
Add the garlic to the onions and fry for an additional 3 minutes.
Sprinkle the paprika and flour over the onions and garlic, and cook for another 4 minutes.
Add the diced/crushed tomatoes and the broth/stock to the pan and mix thoroughly.
Cook for an additional half hour.
Heat a large pot of water and cook the noodles according to package instruction.
When the chicken and sauce are finished, mix in the sour creme.
Salt and pepper the sauce to taste.*
Drain the noodles and stir in the butter until it completely melted and mixed in.
Serve the Paprikash over the buttered noodles and garnish with parsley.
* You may find it easier to temporarily remove the chicken from the sauce and then mix in the sour cream, salt and pepper. Afterward, return the chicken to the pot and make sure the pieces are well-coated with sauce.

* We are huge fans of Muhlen egg noodles which can be found at the Continent European Deli. You can also find German noodles at World Market for more money.

Recipe: T. Johnston-O'Neill

Photos: Shari K. Johnston-O'Neill
Keep informed about San Diego Events!
Sign-up for our weekly Eblast by clicking here:
Sign Me Up!
Details

Hits: 1076
- Signature Dishes from Around the World -
---
Details

Hits: 1344
Click Images to Visit Streaming Sites
Netflix International Films & TV


Quick Links:

By Genre:
Details

Hits: 3358
San Diego Area Museums*
San Diego Galleries and Art Centers*
* That feature culturally-specific arts and artifacts
Details

Hits: 3978
San Diego Theaters Featuring Multicultural Productions


Current Productions: See Calendar*

Theaters Companies

Keep informed about San Diego Events!
Sign-up for our weekly Eblast by clicking here:
Sign Me Up!
Details

Hits: 2846
The Joomla! content management system lets you create webpages of various types using extensions. There are 5 basic types of extensions: components, modules, templates, languages, and plugins. Your website includes the extensions you need to create a basic website in English, but thousands of additional extensions of all types are available. The Joomla! Extensions Directory is the largest directory of Joomla extensions.
Components are larger extensions that produce the major content for your site. Each component has one or more "views" that control how content is displayed. In the Joomla administrator there are additional extensions such as Menus, Redirection, and the extension managers.
Modules are small blocks of content that can be displayed in positions on a web page. The menus on this site are displayed in modules. The core of Joomla! includes 24 separate modules ranging from login to search to random images. Each module has a name that starts mod_ but when it displays it has a title. In the descriptions in this section, the titles are the same as the names.
Content modules display article and other information from the content component.
User modules interact with the user system, allowing users to login, show who is logged-in, and showing the most recently registered users.
These modules display information from components other than content and user. These include weblinks, news feeds and the media manager.
Utility modules provide useful functionality such as search, syndication and statistics.
Navigation modules help your visitors move through your site and find what they need.
Menus provide your site with structure and help your visitors navigate your site. Although they are all based on the same menu module, the variety of ways menus are used in the sample data show how flexible this module is.
A menu can range from extremely simple (for example the top menu or the menu for the Australian Parks sample site) to extremely complex (for example the About Joomla! menu with its many levels). They can also be used for other types of presentation such as the site map linked from the "This Site" menu.
Breadcrumbs provide users with information about where they are in a site.
Templates give your site its look and feel. They determine layout, colours, typefaces, graphics and other aspects of design that make your site unique. Your installation of Joomla comes prepackaged with three front end templates and two backend templates. Help