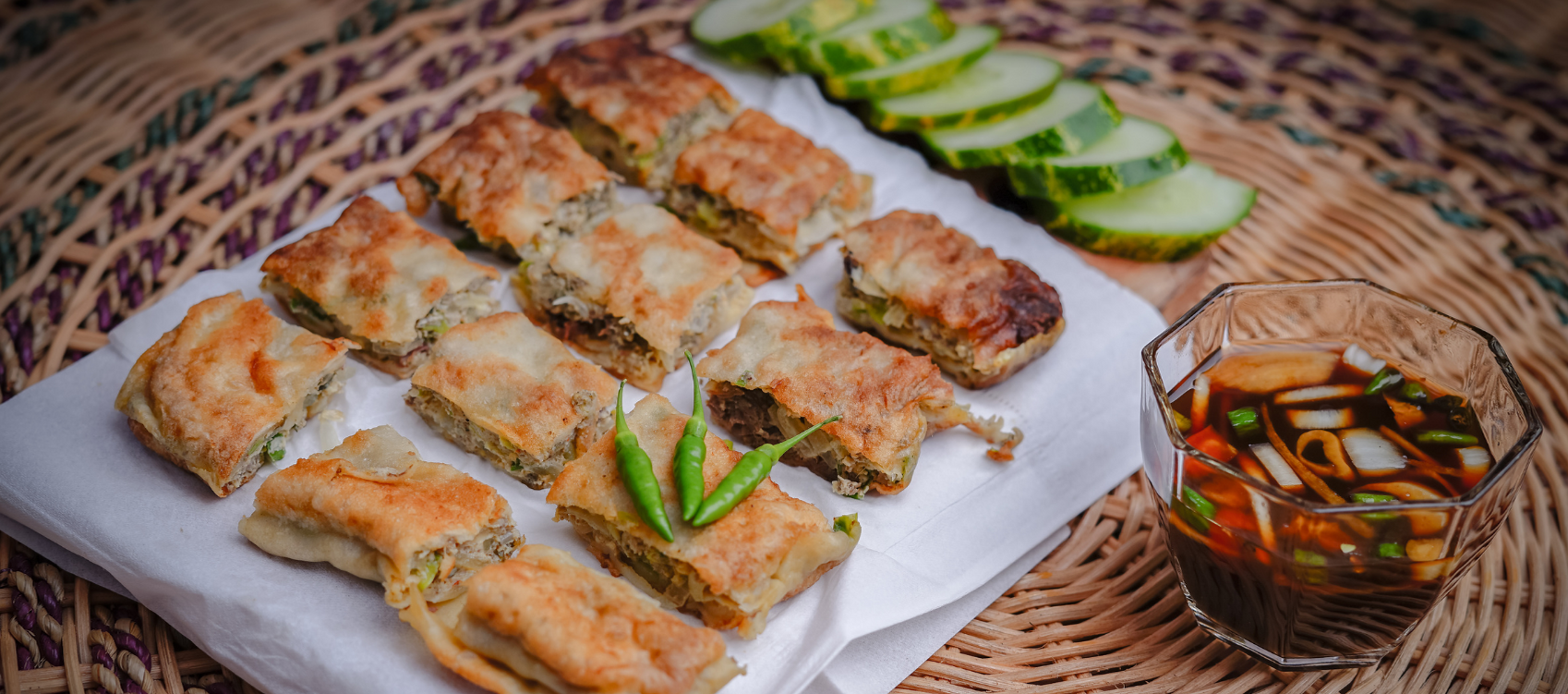 Many Indonesians survive the often sultry evenings by eating out with their friends or family with food from mobile roadside eateries called kaki lima (five feet) or at small eateries known as warung. These eateries serve a variety of dishes including; noodle soup (soto), skewered meat (sate), fried tofu with chili sauce (tahu goreng), deep-fried bananas (pisang goreng). A popular snack dish (but it can be a whole meal) in the Sumatran coastal town of Padang is martabak. The dish is believed to have originated in Deli, India. It is variously known as murtabak (Malaysia) mutabbaq (Saudi Arabia). In Indonesia martabak comes in sweet (martabak manis) and savory version that resembles a crispy fried crepe with a curried meat and vegetable filling. It is often served with a "mixed pickle" (acar segar) sauce that can either be sweet, vinegary or a combination of both. Expert martabak vendors are able to fry the "crepe," add the filling and finish by folding the crepe. The following recipe uses an easier method of making a small folded package and then frying it on both sides.
Ingredients:
Dough:
2 cups general purpose flour
3 tablespoons cooking oil (peanut, canola or grapeseed)
3/4 cup water
1/2 teaspoon salt
Filling:
2 tablespoons cooking oil (peanut, canola or grapeseed)
4 cloves of garlic (minced)
1 pound ground beef, lamb or chicken
1 cup diced shallots (or yellow onion)
1 small leek (white & some of the green) halved and sliced very thin
1 scallion thinly sliced
1-3 red Thai chilies seeded and sliced very thin
3 tablespoons of minced celery leaves
4 large eggs lightly whisked
1 tablespoon curry powder
1/2 teaspoon of salt
1/2 teaspoon of white pepper
Mixed Pickle Ingredients:
1 cucumber, peeled, de-seeded and cut into matchsticks
1 medium carrot, peeled and cut into matchsticks
10 shallots (small size) peeled and quartered (fewer if using large shallots)
1 cup diced fresh pineapple
1 cup of water
4 tablespoons white vinegar
1 tablespoon sugar
1 teaspoon salt
Preparation:
Dough:
Mix and knead all of the dough ingredients. Place dough in a mixing bowl, cover the bowl and set aside for 2 hours.

Mixed Pickle:

Mix all of the ingredients in a bowl. This concoction actually improves with age. If you keep it refrigerated for 2 to 3 days before using it will develop its full flavor.
Martabak:
Add oil in a frying pan or wok to frying temperature
Add garlic for a half a minute
Add ground meat and fry for 2 minutes
Add the shallots, leek, chilies, celery leaves and curry powder and fry until meat is completely cooked
Remove from heat, add scallion, salt, pepper and egg
Divide dough into four equal portions
Form each dough portion into a ball
With an oiled rolling pin roll one of the balls into a very thin tortilla shape
Fill each tortilla with the filling mixture and fold over the edges to make a thin square package
Fry each martabak in about 1/4 inch of oil heated to a medium high temperature. The oil should not exceed 350 degrees, or else the wrap will burn
Serve the martabak with the mixed pickle.
Selamat Makan! (happy eating!)
Recipe adapted from Authentic Recipes from Indonesian by Heinz von Holzen and Lother Arsana
Photo byShari K. Johnston-O'Neill
Details

Hits: 1570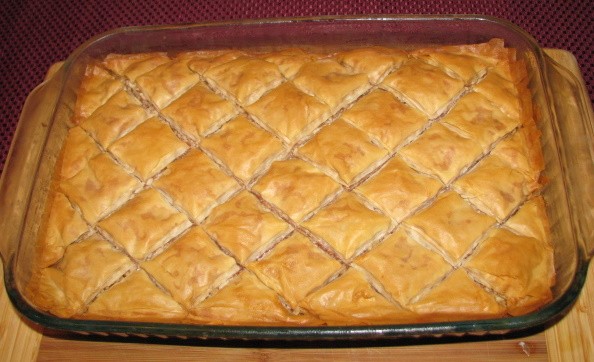 In poor to middle class neighborhoods in Turkey, the expression "I am not rich enough to eat baklava and boerek¹ every day" can commonly be heard among residents—alluding to the early history of baklava when it was primarily consumed on special occasions by the wealthy and elite. Dough and butter are basic to baklava, but throughout the Middle East there are variations in nuts, spices and syrup used. The ingredients themselves are widely believed to be the reason that baklava maintained such an elite status as pistachio, honey, cinnamon, cardamom, and cloves were considered to be aphrodisiacs popular among Turkish sultans. Just as baklava consists of many layers of a variety of ingredients, a glimpse at its origins reveals similarly complex layers as this rich pastry evolved over time, across generations and across cultures. While the history of baklava has not been well documented, a commonly accepted belief is that the most primitive form of the delicacy was created by the Assyrians circa 8th Century B.C. Their baklava consisted of thin layers of bread dough filled with nuts and honey. The Greeks later modified the recipe by making the dough thin as a "leaf" (which in Greek is phyllo). The 15th century saw the birth of the culinary dynastic kitchens of the imperial Ottoman palaces, bringing together chefs from Hungary, Serbia, Assyria, France, and elsewhere to cook for the Sultans and their guests. These chefs collaborated to fine tune and perfect existing recipes, including that of baklava, resulting in a culinary treasure that has been gleefully enjoyed around the world. - Cheryl Landin
¹ A cheese, meat or vegetable filled pastry.
Editor's notes: This is hands-down the best baklava I have yet tasted. If you find most baklava to be overly dry (as I do), you must try this recipe submitted by Jennifer Patterson. Jen says that the recipe was handed down to her by her Macedonian great-grandmother, pointing out that the original recipe used somewhat less precise measurements, such as "a glass of sugar." Jen's well-tested preparation advice is spot on, Shari (who cooked the baklava pictured above) reports that although the preparation is a bit time-consuming, none of the steps are difficult to manage and so even if you are not the most experienced baker, your results will be fabulous.
Ingredients:
2 cups finely chopped walnuts
2 cups finely chopped almonds
3/4 cup sugar
1 tablespoon ground cinnamon
1 pound phyllo pastry dough
2 sticks unsalted butter or margarine
Preparation:
Thaw phyllo pastry according to package directions. Preheat oven to 325 degrees.
Combine nuts, sugar and cinnamon. Keeping unused sheets of phyllo covered with a towel, place 8 sheets—one at a time—in the bottom of an 9x13 inch baking dish (preferably one that has a cover), brushing each sheet with melted butter. Depending on the brand, sheets may be long enough to drape over the edge of the dish and fold in half.
Sprinkle top sheet with 3/4 cup of nut mixture and cover with 2 buttered phyllo sheets. Continue adding buttered phyllo sheets, sprinkling every second sheet with nut mixture until 4 sheets remain.
Place remaining phyllo sheets on top, layering in half with melted butter on each layer
Cut top layers (do not cut too deeply!) of baklava into small diamond or triangle-shaped pieces with a sharp knife (see photo above).
Place the pan on the middle shelf of your oven and bake 1 to 1 1/2 hours, or until golden brown.
While baklava is in the oven, prepare the syrup.
Syrup Ingredients:
2 cups water
1 cup sugar
1 teaspoon fresh lemon juice
3/4 cup honey
2 cloves
1 cinnamon stick
Syrup Preparation:
Mix all of the ingredients except the honey in a saucepan.
Bring to a boil and simmer for 15 minutes.
Add honey and simmer 5 minutes more.
Remove cloves and cinnamon stick. Let cool.
Remove baklava from oven and pour half the cool syrup all over the top.
Twenty minutes later slowly dribble a bit more—but not necessarily all—of the syrup all over the dessert. Pour sparingly, you will judge the correct amount with experience.
Allow the baklava to rest in pan for 4 hours or overnight before cutting and serving. Do not refrigerate.
When ready to remove pieces from pan, cut through the entire pastry, including the bottom crust. Use a sharp knife and cut deeply at least twice, so that pieces come out cleanly and easily.
Recipe by Jennifer Patterson, visit her food blog Put a Spork in It!
Baker: Shari K. Johnston-O'Neill
Photo by T. Johnston-O'Neill
Details

Hits: 1410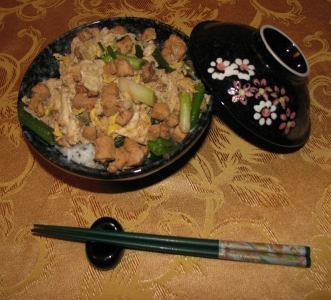 The following recipe for Oyako Donburi is from master chef Shizuo Tsuji's revered cookbook: Japanese Cooking: A Simple Art. The book is not just a masterful collection of essential Japanese dishes, but is also a captivating philosophical treatise on what makes Japanese cuisine so special. Shizuo claims that although Japanese chefs have developed masterful skills in food preparation, the actual flavors (unlike, say, in much of French Cuisine) are not difficult to achieve
Donburi can be translated as "rice bowl" and the actual bowl it is typically served in is also called donburi. There are numerous kinds of Donburi. The dish may have as its main ingredient, seafood, beef, pork, chicken or eggs. Oyako means "Parent and Child" and Oyako Donburi contains both chicken and egg..One word of caution regarding this recipe. Shizuo's original preparation instructions call for not fully cooking the egg. With the recent problems with eggs America has been experiencing, this might raise some legitimate food safety concerns. If you want to play it safe, cook the egg until it is full set (not runny at all). Try to avoid overcooking the egg unless you like chewing on rubber.
Shizuo's directions also call for prolonged rinsing of the rice before it is cooked. This is the traditional method, but recent changes in rice processing has made rinsing largely obsolete. All rice starts out as brown rice. The outer portion of the rice (that gives it its brown color) is milled off to make white rice. In the past milling left a very thin layer or skin, called "hada nuka" or "bran skin". Rinsing the rice removed this layer. Also in the past Japanese rice was often coated in talc to give it a more of a sheen. This too was removed with prolonged rinsing. Somewhat recently a new process was developed for removing the hada nuka and adding talc to rice was abandoned some time ago. RIce that doesn't require rinsing is referred to as 'No-wash rice' (musenmai). Interestingly hada nuku that was washed off of rice in Japan has been identified as a significant water pollutant in Japan. Much like phosphate detergents, hada nuka rinse water running into waterways can create algae blooms, and a degenerative biochemical process known as eutrophication which ultimately depletes the free oxygen in water which then causes fish and other wildlife to die off. "No-wash" Japanese rice is now very common, so unless the rice you buy specifically calls for prolonged rinsing, it is perhaps best to forgo this time-honored and laborious tradition.
To make the rice for Oyako Domburi, it is best to follow the directions on the package. Depending on a number of factors, different rices require slightly different ratios of rice to water, so follow whatever the package directions say. You can use either a pot or an automatic rice cooker which wil make perfect rice every time. It is not a good idea to use American "Carolina" rice, Jasmine rice or Basmati rice. Japanese rice is either short or medium grain and has just the right amount of stickiness to it.
Ingredients:
Basic Ingredients, Dashi "teabag" is on the plate on the left
Commercially prepared dashi often contains liberal amounts of the flavor enhancer MSG. Many people do not tolerate MSG, many people (particular East Asians!) rather like it. You can get dashi that does not contain MSG. Just check the list of ingredients on the label if this concerns you. Some brands of dashi come in the form of large "tea bags" which is quite convenient. Follow the directions on the package to make the soup base. You can buy bonito fish flakes (katsuobushi and konbu kelp, you can find directions here. I have found that Japanese shoppers are quite happy to help out folks who cannot read directions printed in Japanese and give their advice as to which brands are the best tasting.

The other somewhat special ingredient in this recipe is "light" soy sauce. This version of soy sause is lighter in color and is thinner and more salty than regular "dark" soy sauce. It is somewhat confusing right now because Kikkoman, the most well known and trustworthy brand of Japanese soy sauce, now markets a low sodium (well, only slightly less salty) but dark colored soy sauce which is not the same as traditional Japanese light soy sauce. Shizuo says that if you can't find light soy sauce for recipes, just combine the two amounts in dark soy sauce.
Main Ingredients:
2 cups of Japanese rice
4 eggs
1/4 pound of chicken breasts
2 scallions, ends removed
Sauce Ingredients:
2 1/2 cups dashi or chicken stock
6 tablespoon dark soy sauce
3 tablespoons light soy sauce
3 tablespoons sugar
Preparation
Cook the rice first and while it is setting prepare the sauce
Mix (do not beat) eggs in a mixing bowl
Cut chicken into 1/4" cubes
Wash and trim onions and cut diagonally into 1-inch lengths (white and green parts)
Sauce Preparation
Combine ingredients for sauce in a medium-sized saucepan.
Bring to a gentle boil over medium heat.
Add chicken and simmer uncovered for 5 minutes.
Add onion and simmer 1/2 minute longer.
While stirring the pot very gently pour around the chicken in the simmering sauce. Let the egg spread naturally. Keep heat at medium high till the egg starts to bubble at the edges. At this point, stir once. The egg will have almost set but will still be a little runny (Read safety note above!).
To assemble and serve: Put portions of hot rice, 1 1/2 to 2 cups, into individual Donburi bowls, or use deep soup bowls. With a large spoon, scoop a portion of the egg topping and sauce and place on rice. Sauce will seep down into rice, but the dish will not be soupy. Serve immediately. With this meal-in-a-bowl, serve hot green tea. ENJOY!
Details

Hits: 1316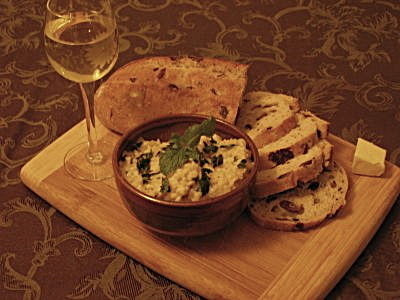 Risotto is a classic Italian rice-based dish that originates from rice-growing northern regions. It is an easy and quick dish to prepare although perfection is somewhat elusive. Risotto uses either short or medium grain starchy rices such as Carnaroli, Vialone Nano, and Arborio, which is readily available in American grocery stores. Risotto usually begins with sautéing onions (this recipe uses fennel too) in butter or olive oil. This creates the "soffritto" which comprises the base of many risottos. After the onion (or other ingredients that can withstand long sautéing) is edges towards translucent, one adds the rice, fully coating it in the oil and browning it lightly. This process of "toasting" the rice before any liquid is added is called tostatura in Italian. Typically the next step is to add a cup of white wine and continue heating until the liquid has cooked in and evaporated. Then the stock (usually chicken, seafood or vegetable) is added one ladle-full at at time. Wait until the stock is absorbed/evaporated between each ladle of stock that you add. When all the stock is added, the risotto should be removed from the burner and let stand for 5 minutes or so. After this you can add cold butter and Parmesan cheese (a process known as mantecatura). The rice in the finished risotto should be a bit firm (al dente). These are the basic steps for many risotto dishes. The following recipe uses fennel, Italian hard cheese, lemon zest and parsley. You can experiment widely with this dish. Try adding walnuts, peas, Italian sausage, artichokes or whatever else that tickles your taste-buds!
Ingredients:
1 pound fennel bulbs thinly sliced
1 medium onion, peeled and finely chopped
6 tablespoons (3/4 Stick) unsalted butter or olive oil divided into two parts
2 cups Arborio risotto rice
1/2 cup of white table wine
4 cups chicken broth or vegetable stock
Grated zest from one lemon (vigorously wash lemon first)
5 tablespoons freshly grated Parmesan or Grana Padano cheese
2 tablespoons finely chopped mint or parsley, or both
Salt and Black pepper to taste
Preparation:
Wash and slice thinly the fennel bulbs. The green part is unused in this recipe
Chop the onion finely.
On medium in a medium pot(6 quart), saute the sliced fennel and onions with half the butter (or oil) until the onions are almost translucent
Add rice, stirring to coat all the rice with the butter.
Stir in the wine. Keep stirring until the wine has been absorbed.
Ladle in the broth, one ladle at a time waiting for the broth to be almost entirely absorbed between each ladle-full of broth. Stirring rather frequently and scraping the bottom of the pan will help keep the risotto from burning. A wooden spatula works well for this.
When all of the broth has been added, turn of the heat, and stir in the lemon zest.
Let the risotto rest for 5 minutes.
Somewhat vigorously (not too much so) mix in the remaining butter and cheese. The risotto should be slightly creamy and glistening.
Serve risotto in small bowls, season with salt and pepper, and garnish with finely chopped herbs. Garden salad and a good artisan bread are great compliments to this dish. Risotto is often served as a first course (primo), but it also make good entree for a light meal!
Buon Appetito!
Recipe by T. Johnston-O'Neill
Details

Hits: 1543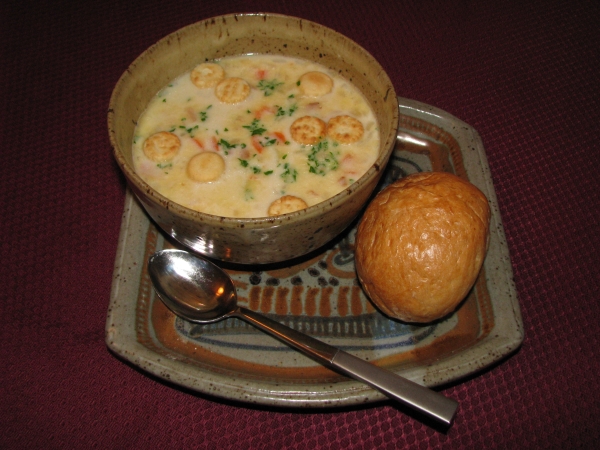 New England Clam Chowder is linguistically—if not culinarily—linked to Native Americans. The clams normally used in this chowder are commonly known as "hard clams" which are differentiated according to their size into, "Little Necks", "Chowder Clams" and "Cherry Stones" . The scientific name for this clam is,Mercenaria mercenaria, Latin for "wages", obtaining this name because of the practice of using clam shells to fashion beads that Native Americans used as currency. In New England, this particular clam is also called a "quahog" which is derived from the Narragansett Indian name for the clam, poquauhock.1
New England Clam Chowder has a venerable history. Not only is it a culinary statement of regional American identity (set against the oppositional tomato based "Manhattan Clam Chowder"), but it also has merited august literary notice. Herman Melville devoted an entire chapter of Moby Dick to this mariner's delight.
However, a warm savory steam from the kitchen served to belie the apparently cheerless prospect before us. But when that smoking chowder came in, the mystery was delightfully explained. Oh, sweet friends! hearken to me. It was made of small juicy clams, scarcely bigger than hazel nuts, mixed with pounded ship biscuit, and salted pork cut up into little flakes; the whole enriched with butter, and plentifully seasoned with pepper and salt. Our appetites being sharpened by the frosty voyage, and in particular Queequag seeing his favorite fishing food before him, and the chowder being surpassingly excellent, we dispatched it with great expedition.
Clam Chowder is relatively easy to make, but like many other kinds of stews and chowders it tastes significantly better the day after initial preparation, once its flavors blend and mellow. There are many variations but the basic ingredients are clams, clam juice, potatoes, bacon and milk and/or cream. While in Captain Ahab's time Clam Chowder was thickened with "hard tack" ship's biscuits, today it is more common to employ plain flour. For those who must restrict their gluten, substituting heavy cream for half the milk and replacing half the Yukon potatoes with russets (which will disintegrate somewhat during cooking thereby thickening the soup) should lead to perfectly acceptable results. A strong dash of white wine also makes a somewhat merrier chowder. To save time and effort, canned clams can be used with excellent results. The following recipe is a basic recipe, there are many variations out there including adding any of the following: celery, celery leaves, thyme, sage, Old Bay Seasoning, cauliflower, corn, garlic, leeks, sherry, white wine, and salt pork (instead of bacon).
Ingredients:
5 pounds of fresh quahog/hard/cherry-stone clams or 2 (7 1/2 once) cans chopped or minced clams
2 pounds Yukon Gold or round white potatoes, peeled and diced
1 yellow onion, finely chopped
3 medium carrots sliced and quartered
3 slices thick bacon cut into 1/4 inch pieces
3 cups milk
3 tablespoons all purpose flour
3 tablespoons butter
2 bay leaves
1 teaspoon fresh thyme leaves or 1/4 teaspoon dried thyme
salt & ground black pepper (to taste)
several sprigs of finely chopped parsley for garnish
oyster crackers
Preparation: Using Fresh Clams: (if using canned clams, skip to step 7)
Scrub fresh clams vigorously and thoroughly.
In a large pot steam the clams in one cup water for eight minutes until the shells open.
Remove clams from pot and let them sit until they are cooled enough to handle. Reserve the water the clams were steamed in.
Over a bowl to catch the clam "liquour" remove the clams from the shell (but not the connective mussle) with a small paring knife.
Chop clams into small pieces.
Strain the reserved water from the pot and the liquor from the bowl through cheese cloth to remove any sand.
Fry the bacon in the empty pot over medium-low heat until the fat renders and the bacon crisps, 5 to 7 minutes.
Add the onion and cook, stirring occasionally, until softened, about 5 minutes.
Add the flour and stir until lightly colored, about 1 minute.
Gradually whisk in the reserved clam broth.
Add the potatoes, carrots, bay leaf, and thyme and simmer until potatoes are tender, about 10 to 15 minutes.
Add the clams, cream, parsley, and salt (if necessary) and ground pepper to taste; bring to simmer.
Remove from the heat, discard the bay leaf, and serve immediately.
At the table allow guests to garnish their bowls of chowder with chopped parsley, additional ground pepper and oyster crackers.
1 Olsen, Stephen, Donald D. Robadue, Jr and Virginia Lee. 1980. An Interpretive Atlas of Narragansett Bay, Rhode Island Sea Grant, Narragansett, Rl.
Recipe by T. Johnston-O"Neill
Details

Hits: 1505
The Joomla! content management system lets you create webpages of various types using extensions. There are 5 basic types of extensions: components, modules, templates, languages, and plugins. Your website includes the extensions you need to create a basic website in English, but thousands of additional extensions of all types are available. The Joomla! Extensions Directory is the largest directory of Joomla extensions.
Components are larger extensions that produce the major content for your site. Each component has one or more "views" that control how content is displayed. In the Joomla administrator there are additional extensions such as Menus, Redirection, and the extension managers.
Modules are small blocks of content that can be displayed in positions on a web page. The menus on this site are displayed in modules. The core of Joomla! includes 24 separate modules ranging from login to search to random images. Each module has a name that starts mod_ but when it displays it has a title. In the descriptions in this section, the titles are the same as the names.
Content modules display article and other information from the content component.
User modules interact with the user system, allowing users to login, show who is logged-in, and showing the most recently registered users.
These modules display information from components other than content and user. These include weblinks, news feeds and the media manager.
Utility modules provide useful functionality such as search, syndication and statistics.
Navigation modules help your visitors move through your site and find what they need.
Menus provide your site with structure and help your visitors navigate your site. Although they are all based on the same menu module, the variety of ways menus are used in the sample data show how flexible this module is.
A menu can range from extremely simple (for example the top menu or the menu for the Australian Parks sample site) to extremely complex (for example the About Joomla! menu with its many levels). They can also be used for other types of presentation such as the site map linked from the "This Site" menu.
Breadcrumbs provide users with information about where they are in a site.
Templates give your site its look and feel. They determine layout, colours, typefaces, graphics and other aspects of design that make your site unique. Your installation of Joomla comes prepackaged with three front end templates and two backend templates. Help