Our Recipe of the Month is for Italian Tomato, Onion, and Butter Pasta. This is the simplest of recipes and one of the most magical. The basic ingredients are tomatoes, onions, butter, and pasta. But some alchemy is at work here, as the results are heavenly.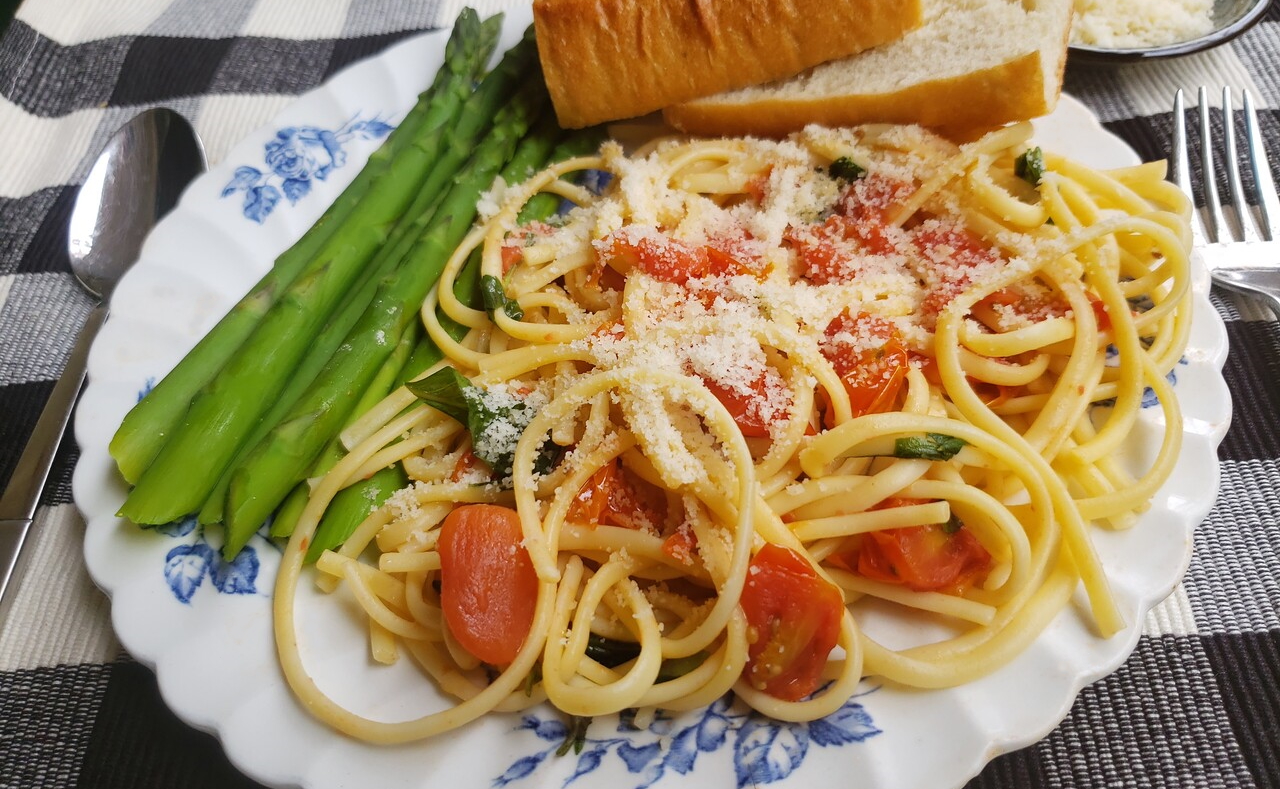 Our Recipe of the Month is Italian Tomato Butter Pasta alla Hazan. Certain cookbook authors hold the distinction of having introduced an entire cuisine to another country in such a comprehensive way that their cookbooks are eagerly followed across generations. The most famous of these cookbook authors is Julia Child who introduced French cuisine to America with the publication of Mastering the Art of French Cooking*. Madhur Jaffery's Invitation to Indian Cooking did the same for both America and England. And Marcella Hazan's Essentials of Classic Italian Cooking belongs on this list of illustrious cookbooks that forever changed the way American cooks understood and appreciated a culturally specific cuisine. Don't be fooled by the title—the "Essentials of Classic Italian Cooking is 736 pages long, a more accurate description would be "comprehensive", perhaps the title of the book is simply an acknowledgment of the utter vastness of Italian cookery.
On page 240 (of the Kindle version) of Hazan's tome, one will find a recipe for "Tomato Sauce with Onion and Butter". It's as unassuming and minimalist as they come and yet Hazan notes: "I have known people to skip the pasta and eat the sauce directly out of the pot with a spoon." It's that good. Hazan says that Potato Gnocchi is well suited to this sauce, but really any kind of pasta would be elevated to the sublime by this ever-so-simple sauce. Hazan's sauce recipe calls for only 6 ingredients: a pasta of your choice, tomatoes, onion, butter, salt and served with freshly grated Parmigiano-Reggiano cheese. In her recipe, the onion is only used as a flavoring. Her instructions are to peel and cut an onion in half, cook it with the sauce and then discard the onion halves before serving. The only changes we made in Hazan's recipe is to dice the onions and to add coarsely chopped fresh basil (and some fresh ground pepper) at the end of the cooking. Hazan says the sauce freezes well, but if you wish to do this with our recipe, omit the basil. Nowadays, 50 years after "Essentials" was first published, canned diced tomatoes are commonplace and therefore the easiest of options. A couple of recipes I found on the internet suggest using cherry tomatoes which I did when I made the dish. If using cherry tomatoes, you will probably need to add some pasta water to the sauce to make it saucier. Of course, many cooks add garlic, olives, Italian seasonings and more, but they are not at all necessary to create this culinary wonder.
Notably, this recipe does not use either garlic or Italian spices. All of the magic occurs because of the long simmering of the tomatoes and onions in the butter. We absolutely love spices, but this recipe proudly stands on its own without them! Hazan recommends that if you are using fresh tomatoes to either blanch the tomatoes, remove the skins and chop them into smaller pieces, or puree them in a food mill (aka a food processor). If using canned tomatoes, Hazan suggests using "Italian plum (aka "Roma") tomatoes". We used 2 pounds of halved cherry tomatoes, which is about 4 cups. The results were delicious.
* Note: As an Amazon Affiliate, we earn from qualified purchases.
Ingredients:
2 pounds of fresh tomatoes, 4 cups of halved cherry tomatoes, or 2 cups of canned diced tomatoes
8 tablespoons (one stick) of butter
1 medium onion (diced)
1 pound of pasta (we used linguini)
1 cup of coarsely chopped basil (can substitute Italian parsley)
Shredded or grated Parmesan cheese
Salt and pepper to taste
Preparation:
Melt the butter in a saucepan on medium-low heat.
Add the onions and sauté for 2 minutes.
Add the tomatoes and adjust the heat so that the sauce maintains a low simmer.
Simmer for 40 minutes, stir frequently, and smash the pieces of tomato into smaller bits.
Cook the pasta according to package directions but for 1 minute less than instructed. Time everything so that the pasta and the sauce are done cooking at the same time.
Using a pasta fork or tongs, transfer the pasta to the still-simmering sauce.
Add chopped basil (or parsley), salt, pepper, and 1/3 to 1/2 cup of pasta water.
Mix thoroughly and cook for an additional 1 to 2 minutes.
Serve with the grated Parmesan cheese, a side vegetable, and buttered bread of your choice (we prefer sourdough).
Buon Appetito!
Recipe and Photos by T. Johnston-O'Neill