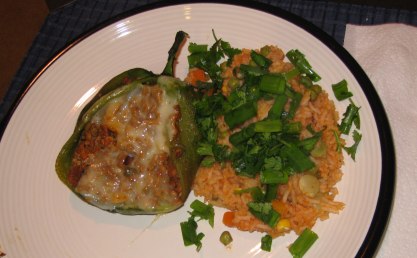 "Tex-Mex" is a blend of Mexican and southwest U.S. cultural elements. The term when applied to food typically indicates a method of preparing traditional Mexican foods with ingredients more commonly available in the United States. There are many variations of this dish, this is based on the one my grandmother made. This recipe serves two, but it can be doubled to serve more.
Ingredients:
2 Poblano (Mexican) peppers
1 tablespoon of olive oil (for vegetarian version)
3/4 pounds ground beef (may substitute crumbled vegetarian burger)
2 tablespoons McCormick chili seasoning mix or Mexican Adobo spices (more or less according to taste)
2 celery sticks, minced
2 or 3 garlic cloves, minced
1/2 small onion, minced
1/4 cup shredded pepper jack cheese or Mexican Asadero cheese
salt & pepper to taste
Preparation:
Preheat oven to 375 degrees
Pablano peppers are typically charred until black over an open flame from either a gas stove or over a grill. They can also be broiled in an oven. The goal with the charring is to fully cook the peppers. Another method is to parboil the peppers for 3 minutes. Peppers can be eaten with their skins or they can be easily removed once they are either grilled or parboiled.
Slice the Pablanos in half lengthwise and remove the seeds
In a large (preferably cast-iron) skillet brown hamburger and then add the garlic, onion celery, spice mixture, salt and pepper. Saute until onions are translucent. If you are cooking the vegetarian version, saute all the ingredients in the olive oil.
Arrange the pepper halves on a cookie sheet or oven pan. Brushing the pan lightly with olive oil will prevent the peppers from sticking.
Fill Pablano pepper halves with the above mixture and generously top with shredded cheese.
Bake stuffed peppers for 10 minutes or until the cheese melts and starts to brown
Stuffed peppers can be served with Mexican or white rice and either re-fried or black beans. Enjoy!
Recipe by Angela Basurtto
Keep informed about San Diego Events!
Sign-up for our weekly Eblast by clicking here:
Sign Me Up!