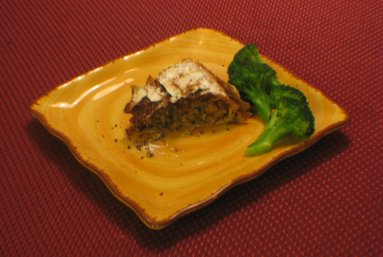 B'stilla is thought to be the national dish of Morocco. It is almost always served at weddings. Legend has it that this dish originated in the city of Fez. Authentically the recipe calls for using squab (a young pigeon), but you can use chicken thigh meat as this recipe calls for. Chicken breasts don't work very well as they easily dry out. This is not a particularly easy dish to make, but it doesn't really require any special skills, just a good attention to preparation details.

Basically B'stilla is a sweet and savory meat pie with a filo dough crust. The combination of ingredients and resulting flavors is quite interesting. As my wife said rather enthusiastically, "It's a keeper!
Ingredients:
1 tablespoon olive, canola or grapeseed oil
2 1/2 pounds boneless skinless chicken thighs
1 cup of chopped shallots or 1 medium yellow onion, chopped
1 cup of yellow raisins
3 garlic cloves, crushed
1/2 teaspoon saffron threads
1 teaspoon ground cumin
1 teaspoon ground ginger
1 teaspoon ground turmeric
1 teaspoon cinnamon
salt (to taste)
2 cups chicken stock
3/4 cup slivered almonds
3 eggs, lightly beaten
1 cup coriander leaves, roughly chopped
1 cup flat-leaf parsley leaves, roughly chopped
1 stick of butter, melted and cooled somewhat
8 sheets filo pastry, unfrozen but kept refrigerated until used
1 tablespoon of regular sugar
icing/confectioner's sugar
Enough cinnamon for the top decoration
Important Preparation Notes:
It is good cooking practice to measure out all ingredients first, putting each ingredient in its own separate bowl. Spices, however, can be measured out and put in a single bowl.

If you follow this recipe step by step, you will end up eating sometime around midnight. Read through the entire recipe first and you will see that while the filling mixture is simmering, you can be preparing other ingredients.


Preparation (part 1)
1 Heat 1 1/2 tablespoons oil in a large frying pan over medium heat.
Add chicken thighs and brown on all sides.
Remove chicken from frying pan.
Add remaining oil to pan. Add onion and cook, stirring often, until soft.
Add garlic, saffron, cumin, ginger, salt and cinnamon.
Stir and cook for 1 minute or until aromatic.
Add chicken stock and bring mixture to a boil.
Return chicken to frying pan, cover, reduce heat and simmer. Stir pot every few minutes while it is cooking.
After 30 minutes, turn off heat, remove chicken from pan.
While the above filling is cooking, coarsely grind -- with a mortar and pestle or a spice grinder -- the slivered almonds.
Put resulting almond meal in a frying pan and heat over medium-low heat.
Stir almond meal often, until light golden.
Transfer almond meal to bowl so that it stops roasting and doesn't burn.
Mix into the almond meal a teaspoon of regular cinnamon and a tablespoon of regular sugar.
Pre-heat oven to 375 degrees.
When chicken is cool enough, shred it with a fork and return to the frying pan.
Once again, bring mixture in pan to a simmer.
Stir in coriander, parsley and raisins to chicken mixture.
After these ingredients have been mixed, continue stirring mixture while slowly adding beaten eggs.
Simmer mixture, stirring frequently to avoid burning, until the moisture is driven off and the mixture is moist but no longer watery.
Turn off heat to frying pan.
Preparation (part 2)
You will now create the "pie" with the filo dough. It is important that the dough does not dry out while assembling the pie. You can prevent this by laying out the 6 sheets of dough on a flat surface and covering them with a clean damp kitchen towel, removing sheets one at a time (and then re-covering the remaining sheets with the towel).
With a pastry brush, lightly coat a 9 inch pie pan with butter.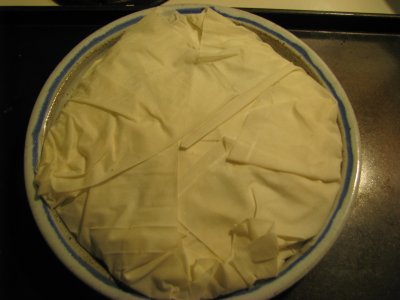 The folded over filo sheets
This following are directions how to make a stack of filo dough in which every two layers is separated by the ground almond mixture.
On a large flat surface (a cutting board or clean counter top), lay out one sheet of filo dough and brush lightly with butter.
On top of this layer place another sheet of filo dough "cross-wise" (90 degrees, filo sheets are usually rectangular) from the first sheet and again brush with melted butter.
Sprinkle a thin layer of the roasted almond mix on top of the buttered sheet.
Place the third sheet of filo on top, (cross-wise from the last) brush with butter.
Then place the forth sheet, this time again brushing with butter and layering with the almond mixture.
Continue this process until you have used all eight sheets. You need not butter or festoon the final layer with the toasted almond meal (but you will use the remainder of it before you are done).
Transfer the stack of filo sheet onto the pie pan, allowing the edges to overhang the pan. Gently press into the pan.
Spoon the warm chicken mixture into center of filo distributing it evenly. Layer by layer fold overlapping filo over, enclosing filling.
Place a baking sheet over the pie and very carefully flip the pie over on to the pan and then remove the pie plate.

B'stilla before and after baking
Preparation (part 3)
Place the B'stilla on the center rack of your preheated oven and back until the filo is a pleasing golden brown.
After about fifteen minutes, check the progress of the baking frequently so that you don't burn the dough. In Morocco, B'stilla can be deep-fat fried, but we didn't try this.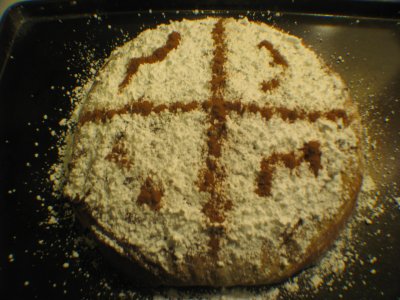 Decorate with powdered sugar and cinnamon
After the "pie" achieves its golden-brown perfection, remove it from the oven.
Coat the top of the B'stilla with a generous layer of confectioner's sugar (using a sifter or a mesh strainer might make it easier) and create a design on top of this with cinnamon. We used a piece of paper rolled into a funnel to apply the cinnamon design.
To serve, cut into pie shaped pieces. I am quite sure you will be very pleasantly surprised by how all these flavors flamboyantly interact.
Enjoy!
Recipe by T. Johnston-O'Neill
Keep informed about San Diego Events!
Sign-up for our weekly Eblast by clicking here:
Sign Me Up!