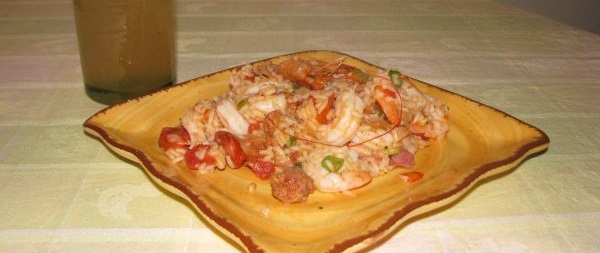 "Creole" and "Cajun" are two terms often associated with the state of Louisiana and the city of New Orleans. The two words refer to different, although related, cultural traditions. Cajuns—who live throughout much of Louisiana—are considered to be descendants of French colonists who were exiled from the eastern maritime regions of Canada (principally Nov a Scotia, aka "Acadia" from which the term "Cajun" derives) in the late 1700's during Le Grand Dérangement. Cajun culture is not, however, purely French having been strongly influenced by Southern US cultures. "Creole,"—"a term which linguists use to denote a stable language which is a mixture of two dissimilar languages—is variously used to denote people who are; a mixture of European and African descent, Southern U.S. residents who are French descendants, or a person of European descent born in the West Indies or Latin America. In common usage there is a great deal of overlap in these two cultural terms although they are not interchangeable.
The word Jambalaya has many competing folk etymologies, but the Oxford English Dictionary considers it to be derived from the French Provençal word "jambalaia" meaning "mixture" a meaning that is well suited to its cultural milieu. Jambalaya is a dish that is thought to have originated in the European quarter of New Orleans, now commonly known as the "French Quarter" or simply "The Quarter". Although originally established by the French, much of the present day historical architecture was built during subsequent Spanish rule as many of the original French buildings were destroyed by fires in 1778 and 1794. It is likely that Jambalaya was a New World approximation of Spanish Paella in which tomatoes were substituted for saffron. Jambalaya, like the architecture and the inhabitants of the city of New Orleans, regales in the complementary blending of diverse elements and cultures.
Unlike Cajun style Jambalya, Creole style Jambalaya is cooked with tomatoes. Another difference is that Cajun jambalaya, also known as "Brown Jambalaya," is darker in color due to generous browning of the meats and is generally spicier than its Creole cousin. Unlike other dishes in Louisiana (notably gumbo and étouffées), but similar to Paella, rice is integral to the dish itself. Differing from its culinary ancestry, Paella, Jambalaya is cooked with long grain, not short grain, rice. As you can see from the directions below, preparation is quite easy and relatively quick. Variations of ingredients abound, so feel free to experiment!
Ingredients:
4 cups chicken stock
1/2 pound diced chicken (white or dark)
1/2 pound diced smoked ham (diced)
1/2 pound diced or sliced Chaurice, Andouille or other smoked spicy sausage.
1/2 pound shrimp (peeled and de-veined, or whole)
1 cup chopped yellow onions
1 (14 once) can of diced tomatoes
4 scallions sliced
1 large bell pepper (red, green or both) diced
3 cups long-grained rice
1 bay leaf
1/2 teaspoon paprika
1 tablespoon. chopped parsley
1 teaspoon thyme (crush with your fingers)
1 teaspoon chopped garlic
Salt and pepper to taste
Tabasco sauce, other hot sauce, or cayenne pepper to taste
Preparation:
Sauté over medium heat ham, sausages, chicken and onions in 3-quart saucepan until sausages are browned and onions are translucent.
Add bell pepper and garlic. Continue to sauté until vegetables are wilted, 3-5 minutes
Add rice, chicken stock, tomatoes and spices.
Bring to a boil, then reduce to a gentle simmer, cover pot and cook for 10 minutes
Add shrimp and green unions, mix well, cover and cook an additional 5 minutes
Add parsley, mix, and serve.
Enjoy!
Recipe by Tom Johnston-O'Neill
Photo by Shari K. Johnston-O'Neill
Keep informed about San Diego Events!
Sign-up for our weekly Eblast by clicking here:
Sign Me Up!