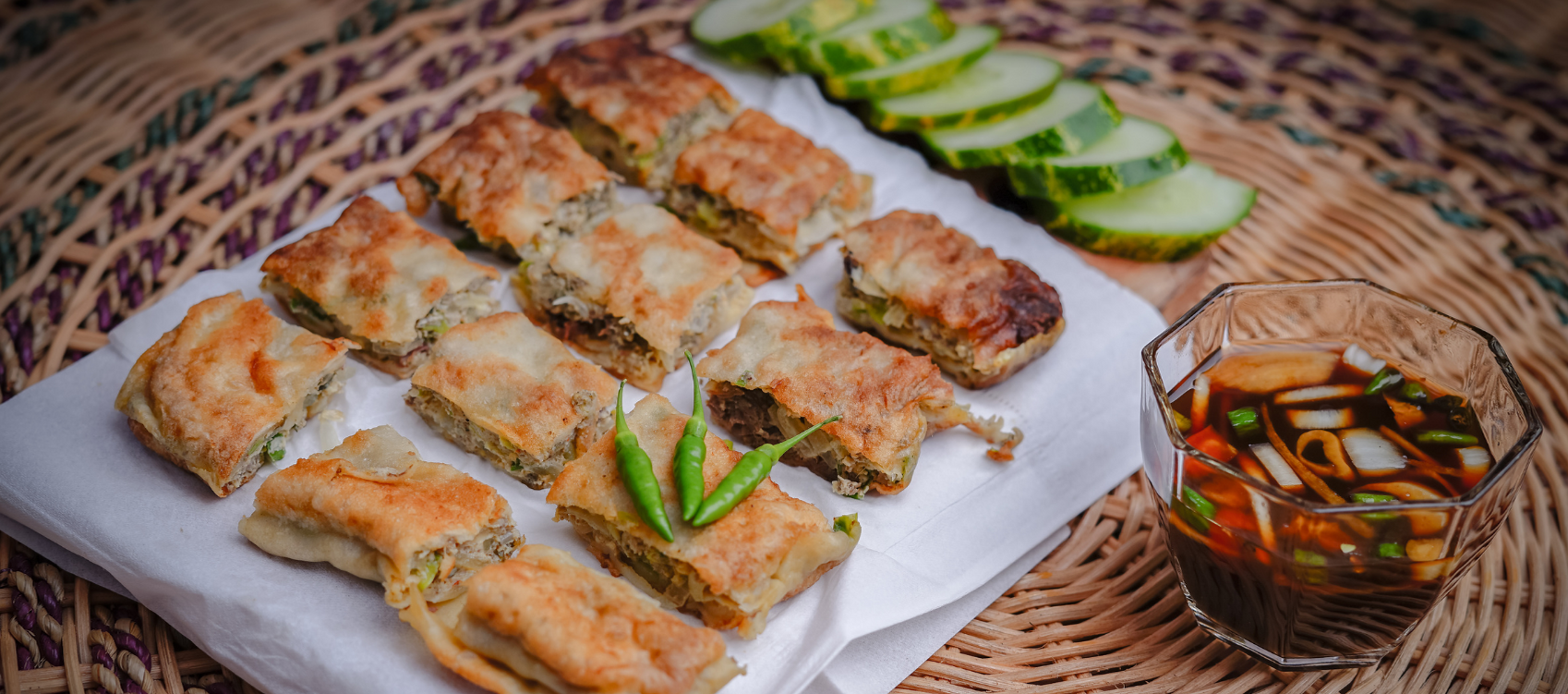 Many Indonesians survive the often sultry evenings by eating out with their friends or family with food from mobile roadside eateries called kaki lima (five feet) or at small eateries known as warung. These eateries serve a variety of dishes including; noodle soup (soto), skewered meat (sate), fried tofu with chili sauce (tahu goreng), deep-fried bananas (pisang goreng). A popular snack dish (but it can be a whole meal) in the Sumatran coastal town of Padang is martabak. The dish is believed to have originated in Deli, India. It is variously known as murtabak (Malaysia) mutabbaq (Saudi Arabia). In Indonesia martabak comes in sweet (martabak manis) and savory version that resembles a crispy fried crepe with a curried meat and vegetable filling. It is often served with a "mixed pickle" (acar segar) sauce that can either be sweet, vinegary or a combination of both. Expert martabak vendors are able to fry the "crepe," add the filling and finish by folding the crepe. The following recipe uses an easier method of making a small folded package and then frying it on both sides.
Ingredients:
Dough:
2 cups general purpose flour
3 tablespoons cooking oil (peanut, canola or grapeseed)
3/4 cup water
1/2 teaspoon salt
Filling:
2 tablespoons cooking oil (peanut, canola or grapeseed)
4 cloves of garlic (minced)
1 pound ground beef, lamb or chicken
1 cup diced shallots (or yellow onion)
1 small leek (white & some of the green) halved and sliced very thin
1 scallion thinly sliced
1-3 red Thai chilies seeded and sliced very thin
3 tablespoons of minced celery leaves
4 large eggs lightly whisked
1 tablespoon curry powder
1/2 teaspoon of salt
1/2 teaspoon of white pepper
Mixed Pickle Ingredients:
1 cucumber, peeled, de-seeded and cut into matchsticks
1 medium carrot, peeled and cut into matchsticks
10 shallots (small size) peeled and quartered (fewer if using large shallots)
1 cup diced fresh pineapple
1 cup of water
4 tablespoons white vinegar
1 tablespoon sugar
1 teaspoon salt
Preparation:
Dough:
Mix and knead all of the dough ingredients. Place dough in a mixing bowl, cover the bowl and set aside for 2 hours.

Mixed Pickle:

Mix all of the ingredients in a bowl. This concoction actually improves with age. If you keep it refrigerated for 2 to 3 days before using it will develop its full flavor.
Martabak:
Add oil in a frying pan or wok to frying temperature
Add garlic for a half a minute
Add ground meat and fry for 2 minutes
Add the shallots, leek, chilies, celery leaves and curry powder and fry until meat is completely cooked
Remove from heat, add scallion, salt, pepper and egg
Divide dough into four equal portions
Form each dough portion into a ball
With an oiled rolling pin roll one of the balls into a very thin tortilla shape
Fill each tortilla with the filling mixture and fold over the edges to make a thin square package
Fry each martabak in about 1/4 inch of oil heated to a medium high temperature. The oil should not exceed 350 degrees, or else the wrap will burn
Serve the martabak with the mixed pickle.
Selamat Makan! (happy eating!)
Recipe adapted from Authentic Recipes from Indonesian by Heinz von Holzen and Lother Arsana
Photo byShari K. Johnston-O'Neill
Keep informed about San Diego Events!
Sign-up for our weekly Eblast by clicking here:
Sign Me Up!