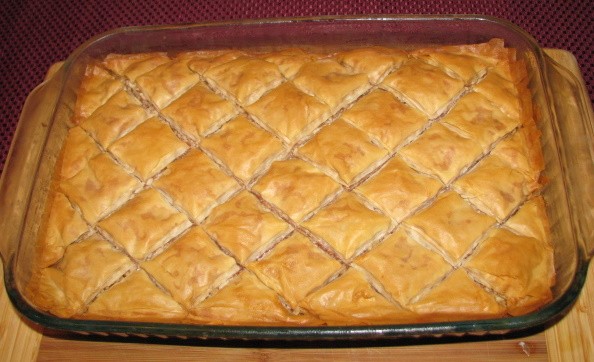 In poor to middle class neighborhoods in Turkey, the expression "I am not rich enough to eat baklava and boerek¹ every day" can commonly be heard among residents—alluding to the early history of baklava when it was primarily consumed on special occasions by the wealthy and elite. Dough and butter are basic to baklava, but throughout the Middle East there are variations in nuts, spices and syrup used. The ingredients themselves are widely believed to be the reason that baklava maintained such an elite status as pistachio, honey, cinnamon, cardamom, and cloves were considered to be aphrodisiacs popular among Turkish sultans. Just as baklava consists of many layers of a variety of ingredients, a glimpse at its origins reveals similarly complex layers as this rich pastry evolved over time, across generations and across cultures. While the history of baklava has not been well documented, a commonly accepted belief is that the most primitive form of the delicacy was created by the Assyrians circa 8th Century B.C. Their baklava consisted of thin layers of bread dough filled with nuts and honey. The Greeks later modified the recipe by making the dough thin as a "leaf" (which in Greek is phyllo). The 15th century saw the birth of the culinary dynastic kitchens of the imperial Ottoman palaces, bringing together chefs from Hungary, Serbia, Assyria, France, and elsewhere to cook for the Sultans and their guests. These chefs collaborated to fine tune and perfect existing recipes, including that of baklava, resulting in a culinary treasure that has been gleefully enjoyed around the world. - Cheryl Landin
¹ A cheese, meat or vegetable filled pastry.
Editor's notes: This is hands-down the best baklava I have yet tasted. If you find most baklava to be overly dry (as I do), you must try this recipe submitted by Jennifer Patterson. Jen says that the recipe was handed down to her by her Macedonian great-grandmother, pointing out that the original recipe used somewhat less precise measurements, such as "a glass of sugar." Jen's well-tested preparation advice is spot on, Shari (who cooked the baklava pictured above) reports that although the preparation is a bit time-consuming, none of the steps are difficult to manage and so even if you are not the most experienced baker, your results will be fabulous.
Ingredients:
2 cups finely chopped walnuts
2 cups finely chopped almonds
3/4 cup sugar
1 tablespoon ground cinnamon
1 pound phyllo pastry dough
2 sticks unsalted butter or margarine
Preparation:
Thaw phyllo pastry according to package directions. Preheat oven to 325 degrees.
Combine nuts, sugar and cinnamon. Keeping unused sheets of phyllo covered with a towel, place 8 sheets—one at a time—in the bottom of an 9x13 inch baking dish (preferably one that has a cover), brushing each sheet with melted butter. Depending on the brand, sheets may be long enough to drape over the edge of the dish and fold in half.
Sprinkle top sheet with 3/4 cup of nut mixture and cover with 2 buttered phyllo sheets. Continue adding buttered phyllo sheets, sprinkling every second sheet with nut mixture until 4 sheets remain.
Place remaining phyllo sheets on top, layering in half with melted butter on each layer
Cut top layers (do not cut too deeply!) of baklava into small diamond or triangle-shaped pieces with a sharp knife (see photo above).
Place the pan on the middle shelf of your oven and bake 1 to 1 1/2 hours, or until golden brown.
While baklava is in the oven, prepare the syrup.
Syrup Ingredients:
2 cups water
1 cup sugar
1 teaspoon fresh lemon juice
3/4 cup honey
2 cloves
1 cinnamon stick
Syrup Preparation:
Mix all of the ingredients except the honey in a saucepan.
Bring to a boil and simmer for 15 minutes.
Add honey and simmer 5 minutes more.
Remove cloves and cinnamon stick. Let cool.
Remove baklava from oven and pour half the cool syrup all over the top.
Twenty minutes later slowly dribble a bit more—but not necessarily all—of the syrup all over the dessert. Pour sparingly, you will judge the correct amount with experience.
Allow the baklava to rest in pan for 4 hours or overnight before cutting and serving. Do not refrigerate.
When ready to remove pieces from pan, cut through the entire pastry, including the bottom crust. Use a sharp knife and cut deeply at least twice, so that pieces come out cleanly and easily.
Recipe by Jennifer Patterson, visit her food blog Put a Spork in It!
Baker: Shari K. Johnston-O'Neill
Photo by T. Johnston-O'Neill
Keep informed about San Diego Events!
Sign-up for our weekly Eblast by clicking here:
Sign Me Up!