Calendar
<
February, 2020
>

Recommended
Coming Soon...
Thursday, Feb 20
All Day
Ongoing and Extended Events
3:00 PM
Talk: Panel on Latin America and Talk by Former President of Costa Rica Laura Chinchilla
4:00 PM
Talk: State Formation in China and Taiwan
4:00 PM
San Diego International Jewish Film Festival
7:00 PM
California's American Indian & Indigenous Film Festival
8:00 PM
Talk: Deirdre Bair
8:00 PM
Stage: Hurricane Diane
Friday, Feb 21
All Day
Ongoing and Extended Events
10:00 AM
Talk: Growing Up In West Berlin During The Cold War
1:00 PM
Talk: Exploring the Origins of Today's Humans
1:30 PM
San Diego International Jewish Film Festival
6:00 PM
Where The Light Travels: Portraits Of San Diego Refugee Students
6:00 PM
Gaslamp Mardi Gras Party Hop
7:00 PM
Music: BeauSoleil with Michael Doucet & Sarah Quintana
7:00 PM
Comedy: Rex Navaarrete
7:00 PM
Film: Never Give Up! Minoru Yasui and the Fight for Justice
7:00 PM
French Baroque Music Concert
7:30 PM
Music: Téada
7:30 PM
California's American Indian & Indigenous Film Festival
8:00 PM
Music: Hutchins Consort with Winifred Horan
8:00 PM
Stage: Hurricane Diane
8:00 PM
Stage: She Loves Me
9:00 PM
Comedy: Rex Navaarrete
Saturday, Feb 22
All Day
Ongoing and Extended Events
10:00 AM
KPBS World Thinking Day
10:00 AM
Black Comix Day
2:00 PM
Talk: Comedia Italian Style
2:30 PM
California's American Indian & Indigenous Film Festival
6:00 PM
Cajun Festival
6:00 PM
Gaslamp Mardi Gras Party Hop
7:00 PM
French Baroque Music: Couperin, Charpentier, Rameau
7:00 PM
Concert: The Music Of William Grant Still
7:30 PM
San Diego International Jewish Film Festival
8:00 PM
Music: Amber Liu, Meg & Dia, Justin Park
8:00 PM
Music: Immigrant Songs
8:00 PM
Stage: Hurricane Diane
8:00 PM
Stage: She Loves Me
9:00 PM
Comedy: Rex Navaarrete
Sunday, Feb 23
All Day
Ongoing and Extended Events

San Diego Dim Sum Tour
10:00 AM
Black Comix Day
12:30 PM
San Diego International Jewish Film Festival
2:00 PM
International Cottage Sampler Program
2:00 PM
Stage: She Loves Me
5:00 PM
Concert: The Music Of William Grant Still
7:00 PM
Stage: Hurricane Diane
8:00 PM
The Benedetti Trio: George Harrison Tribute
Monday, Feb 24
All Day
Indigenous Writers and their Critics: International Symposium
All Day
Ongoing and Extended Events
10:00 AM
Black Comix Day
6:00 PM
Art Talk: Daniel Guzmán
7:00 PM
Talk: Michele Norris
Tuesday, Feb 25
All Day
Ongoing and Extended Events
All Day
Indigenous Writers and their Critics: International Symposium
1:00 PM
Film & Discussion: The Farewell
6:00 PM
African-American Women in Film
6:00 PM
Gaslamp Mardi Gras Party Hop
7:00 PM
Victoria Martino: Carnival in Venice
7:00 PM
Stage: Hurricane Diane
8:00 PM
Music: The Chieftains
Wednesday, Feb 26
All Day
Ongoing and Extended Events
7:00 PM
Writer's Symposium with Pico Ayer
7:00 PM
Stage: Hurricane Diane
7:30 PM
Stage: Orestes 2.0
Thursday, Feb 27
All Day
Ongoing and Extended Events
10:45 AM
Book Talk: Baja California Land of Missions
1:00 PM
Music: Kembang Sunda Gamelan
3:20 PM
Talk: Urban Redevelopment Projects in South Africa
8:00 PM
Stage: Hurricane Diane
Friday, Feb 28
All Day
Ongoing and Extended Events
5:00 AM
28th Annual Kuumba Festival
3:30 PM
Talk: The Racial Imaginary at Work Poetry and the Visual Arts
7:00 PM
Música En La Plaza: Los Montaño
7:30 PM
Stage: Orestes 2.0
8:00 PM
Film: Jojo Rabbit
8:00 PM
Stage: Hurricane Diane
8:00 PM
Stage: She Loves Me
Saturday, Feb 29
All Day
Ongoing and Extended Events
11:00 AM
28th Annual Kuumba Festival
2:00 PM
Stage: Safa's Story
2:00 PM
Stage: Orestes 2.0
3:00 PM
Stage: Little Rock
7:00 PM
Stage: Safa's Story
7:30 PM
Stage: Orestes 2.0
8:00 PM
Film: Jojo Rabbit
8:00 PM
Stage: Hurricane Diane
8:00 PM
Stage: She Loves Me
9:00 PM
Music: Los Pericos, Los Estrambóticos & Ecno
9:00 PM
Spanglish At Finest City Improv
Sunday, Mar 1
All Day
Ongoing and Extended Events
11:00 AM
28th Annual Kuumba Festival
12:00 PM
7th Annual Mariachi Festival
1:00 PM
Music: Kembang Sunda Gamelan
2:00 PM
Stage: She Loves Me
3:00 PM
Los Angeles Balalaika Orchestra
7:00 PM
Stage: Hurricane Diane
7:30 PM
Music: Miguel Zenón Quartet
Monday, Mar 2
All Day
Ongoing and Extended Events
8:00 PM
Music: iLe
Tuesday, Mar 3
All Day
Ongoing and Extended Events
6:30 PM
Talk About Series: Venezuela - What Does It Mean To Live in a Failed State?
7:00 PM
Stage: Hurricane Diane
Wednesday, Mar 4
All Day
Ongoing and Extended Events
7:00 PM
Stage: Hurricane Diane
Books & Literature
Book signings with an author whose writings concern cross-cultural and international topics.
---
Calendar
10/04/2016
-
One Book One San Diego: 10th Anniversary Event with Diane Ackerman
Join KPBS and your San Diego County Library on World Animal Day for a special One Book, One San Diego 10th Anniversary event with 2009 featured author, Diane Ackerman, who wrote "The Zookeeper's Wife." The Zookeeper's Wife is a strange, but historically true story of WWII. It reveals the extraordinary efforts of Jan and Antonina Zabinski, Christian zookeepers horrified by Nazi racism, who capitalized on the Nazis' obsession with pureblood animals in order to save over 300 doomed people by hiding them in the bombed-out cages at the Warsaw Zoo. A tale of people, animals, and subversive acts of compassion.
Admission/Cost: FREE
Location:
Encinitas Library
540 Cornish Drive
Encinitas, CA
MAP
Tuesday, October 4 - 6:30 PM
10/08/2016
-
Literary Tea Adventure with Eowyn Ivey
Eowyn Ivey, New York Time Bestseller & Pulitzer prize finalist for fiction for "The Snow Child," will be the guest of the Westgate Hotel's Literary Tea.
The author will discuss her new book, "To The Bright Edge of the World," a tale of adventure, love and survival. Guests will enjoy a three course afternoon tea with champagne.
Books will be available for purchase online and signing during the evening.
Admission/Cost:
$57.35 - $85.35
, Parking $3 validation
Location:
Westgate Hotel San Diego
1055 Second Avenue
San Diego, CA
MAP
Saturday, October 8 - 2:30 PM to 5:00 PM
For more information, please visit:
www.westgatehotel.com
07/13/2016
-
Eleanor Brown: Parisian Dinner Booksigning
Eleanor Brown is back with her new novel, The Light of Paris. Traversing generations, this book tells the story of Madeline and her grandmother Margie, who has not always been the reserved, perfect woman she is now.
Dine with Eleanor over authentic cuisine and magnifique conversation. Includes a French meal, drink, book discussion, and an opportunity to meet the author up close and personal.
Admission/Cost:
$40
Location:
Cocotte Bistro
8935 Towne Centre Drive
La Jolla, CA
MAP
Wednesday, July 13 - 6:30 PM
For more information, please visit:
www.adventuresbythebook.com
06/25/2016
-
Book Signing: Elephant and the Indians
Chinese men and women crossed the Pacific Ocean to find wealth and prosperity in
06/11/2016
-
Book Signing: Grit & Hope
Local author Barbara Davenport will read from her new book Grit and Hope: A Year with Five Latino Students and the Program that Helped Them Aim for College. Chris Yanov, founder & director of Reality Changers, and a panel of first generation college graduates will talk about the realities of being the first in their families to go to college.
Admission/Cost: FREE
Location:
First Unitarian Universalist Church of San Diego
4190 Front Street
San Diego, CA 92103
MAP
Saturday, June 11 - 2:00 PM to 4:00 PM
For more information, please call (619) 298-9978
05/16/2016
-
Gabriel Mendes: Under the Strain of Color
UCSD professor Gabriel Mendes discusses his book telling the story of how an interracial group of radical doctors, clergy, and artists attempted to establish a progressive model of mental health care as an integral part of the struggle for racial justice and equality in the United States in the early post
05/15/2016
-
Poetry Reading: Shadab Hashmi
A reading and reflection of poems from Shadab Zeest Hashmi
04/29/2016
-
Book Signing: Cereus and the Rarest Thing
Local author R. H. Gutierrez will sign copies of his book, Cereus and the Rarest Thing. After the death of his Sensei, Rafael was stuck in his modern life. Dealing with one death already, his father dies and Rafael realizes that he can no longer continue living as he has. With this revelation, he journeys to
04/30/2016
-
Book Signing: Lisa See
The Iris Auxiliary to the San Diego Center for Children is holding a Meet the Author Luncheon featuring New York Times bestselling author Lisa See, who will speak and sign copies of her novels. China Dolls, Snow Flower, and The Secret Fan, Dreams of Joy, and Shanghai Girls are among her popular works.
Honored by the Organization of Chinese Women as National Woman of the Year in 2001, Lisa See writes about the intricate relationships of women and about love of family and one
04/27/2016
-
Book Signing: The Aloha Shirt: Spirit of the Islands
The Pataloha Party celebrates the release of The Aloha Shirt: Spirit of the Islands. Surfing legend Gerry Lopez and author Dale Hope will talk about the world
Today's Date
IN PRINT SINCE 2006
Music From Everywhere!

Published By:
Music of the Month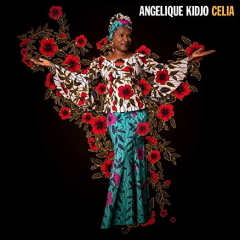 Celia
by Angelique Kidjo
Participant Observer Staff
Section Editors, Writers and Contributors: Sharon Payne, Ana Alvarez,
Cecilia Xinyu Cai, Jaehyeon Ahn
Spanish Translations: Ana Alvarez, Programming: Rachel Duncan
Associate Editors: Christa Parrish, Katie Tonellato
Editor in Chief: Tom Johnston-O'Neill
Orgs and Causes in San Diego
Join Our Team!