Calendar
<
August, 2018
>
Coming Soon...
Sunday, Aug 19
All Day
Ongoing and Extended Events
9:00 AM
Summergrass Bluegrass Festival
2:00 PM
House of Hungary Lawn Program
2:00 PM
Asian Brush Painting Exhibit
5:00 PM
Music: Jonathan Leviim & Oleg Poliansky
6:00 PM
Lecture: Marcus & Amy Jaques Garvey Celebration
8:00 PM
Stage: In the Heights
8:00 PM
Stage: Hunchback of Norte Dame
8:00 PM
Stage: Much Ado About Nothing
Monday, Aug 20
All Day
Ongoing and Extended Events
6:30 PM
Film: Survivors
6:30 PM
Book Discussion: Ups and Downs on the New Zealand Road
Tuesday, Aug 21
All Day
Free Admission to Japanese Friendship Garden
All Day
Free Admission to Mingei International Museum
All Day
Ongoing and Extended Events
12:00 PM
International Day of Peace Celebration
6:30 PM
Book Discussion: Ups and Downs on the New Zealand Road
7:30 PM
Stage: Seize the King
7:30 PM
Music: Colm Keegan and Laura Durrant
8:00 PM
Music: Midnight in Paris
8:00 PM
Stage: Hunchback of Norte Dame
8:00 PM
Stage: Much Ado About Nothing
Wednesday, Aug 22
All Day
Ongoing and Extended Events
6:00 PM
Film: Love and Death
8:00 PM
Stage: Hunchback of Norte Dame
8:00 PM
Stage: Much Ado About Nothing
Thursday, Aug 23
All Day
Ongoing and Extended Events
7:30 PM
Stage: Voyeurs de Venus
8:00 PM
Film: Nil Battey Sannata
8:00 PM
Music: Rodriguez
8:00 PM
Stage: In the Heights
8:00 PM
Stage: Hunchback of Norte Dame
8:00 PM
Stage: Much Ado About Nothing
Friday, Aug 24
All Day
Ongoing and Extended Events
3:00 PM
15th San Diego International Kids' Film Festival
6:00 PM
Film: Black Panther
7:30 PM
Music: Chitraveena Concert
7:30 PM
Music: New World String Project
8:00 PM
Stage: Hamlet
8:00 PM
Film: The Lunchbox
8:00 PM
Stage: In the Heights
8:00 PM
Stage: Voyeurs de Venus
8:00 PM
Stage: Hunchback of Norte Dame
8:00 PM
Stage: Much Ado About Nothing
Saturday, Aug 25
All Day
Ongoing and Extended Events
10:00 AM
Foodie trip to Mexico
10:00 AM
La Vuelta Cultural Summer Festival
10:00 AM
Wellness and Latin Food
11:00 AM
Taste of Asia & Pacific House of Chamorros, China and Philippines
1:00 PM
Michelada Rumble
7:00 PM
Music: Nortec Collective
8:00 PM
Music: Shaila Dúrcal
8:00 PM
Stage: In the Heights
8:00 PM
Stage: Voyeurs de Venus
8:00 PM
Stage: Hunchback of Norte Dame
8:00 PM
Stage: Hamlet
8:00 PM
Stage: Much Ado About Nothing
Sunday, Aug 26
All Day
Ongoing and Extended Events
2:00 PM
House of Puerto Rico
3:00 PM
Stage: Hamlet
4:00 PM
Music: From Russia With Love
5:00 PM
Music: Carnatic Vocal Concert by Smt. Gayathri
6:00 PM
Music: Jarabe Mexicana
8:00 PM
Stage: In the Heights
8:00 PM
Stage: Hunchback of Norte Dame
8:00 PM
Stage: Much Ado About Nothing
Monday, Aug 27
All Day
Ongoing and Extended Events
Tuesday, Aug 28
All Day
Ongoing and Extended Events
7:30 PM
Stage: Seize the King
8:00 PM
Stage: Hunchback of Norte Dame
8:00 PM
Stage: Much Ado About Nothing
Wednesday, Aug 29
All Day
Ongoing and Extended Events
8:00 PM
Stage: Hunchback of Norte Dame
8:00 PM
Stage: Much Ado About Nothing
Thursday, Aug 30
All Day
Ongoing and Extended Events
7:30 PM
Film: Paheli
7:30 PM
Stage: Voyeurs de Venus
8:00 PM
Stage: In the Heights
8:00 PM
Stage: Hunchback of Norte Dame
8:00 PM
Stage: Much Ado About Nothing
Friday, Aug 31
All Day
Ongoing and Extended Events
8:00 PM
Stage: In the Heights
8:00 PM
Stage: Voyeurs de Venus
8:00 PM
Stage: Hunchback of Norte Dame
8:00 PM
Stage: Hamlet
8:00 PM
Stage: Much Ado About Nothing
Saturday, Sep 1
All Day
Ongoing and Extended Events
4:00 PM
House of Ukraine Bon Fire
8:00 PM
Stage: In the Heights
8:00 PM
Stage: Voyeurs de Venus
8:00 PM
Stage: Hunchback of Norte Dame
8:00 PM
Stage: Hamlet
8:00 PM
Stage: Much Ado About Nothing
Calendar
Ibero Latin American Film Festival
Films to be screened:

Monday, November 13 - 5:00 PM
TBA / Portuguese with English subtitles

Monday, November 13 - 7:00 PM
Guaraní (Guaraní)
Selected as Uruguay's entry for the 2013 Academy Awards, Rodrigo Plá's narrative accuracy gets audiences involved in this simple story with no false notes. Far from the notion of dysfunctional family American cinema has transformed into a tight system of clichés, The Delay moves far beyond the realm of black and white, employing a subtle variation of grays, underlining what becomes the film's central theme: the intense, painful ambivalence of family responsibility.

Tuesday, November 14 - 5:00 PM
3 Beauties (3 Bellezas)
From the country that boasts over 600 beauty pageants each year comes 3 Beauties, a scathing satire of Venezuela's fixation with beauty and its relation to social status. Perla is the single mother of two competitive daughters, products of her own unfulfilled childhood obsession to become a beauty queen, and a son who she completely ignores. As the years pass, Perla's unlimited efforts to achieve her dream through her "two princesses" transforms everyone's lives into a nightmare. Toddlers & Tiaras meets Pedro Almodóvar in this frantic, devious comedy.

Tuesday, November 14, 2017
Neruda
Gael García Bernal joins award winning Chilean director, Pablo Larraín, in this a noir-infused reimagining of the Nobel Prize-winning poet and politician's struggle with the state.

Wednesday, November 15 - 5:00 PM
Sealed Cargo (Carga sellada)
Based on the real events that took place in 1994 when 400 tons of toxic waste were transported through Bolivia, Sealed Cargo delivers a crucial and current message about the global waste crisis that highlights its relevance. -Palm Springs International Film Festival.

Wednesday, November 15 - 7:00 PM
The Country Of Fear (El país del miedo)
Carlos, Sara, and their preteen son Pablo, live a peaceful middle-class life until Sara begins to notice things disappearing in the house. She blames the Moroccan maid and eventually fires her. But the stealing doesn't stop; Pablo is the culprit. Fearful, Carlos decides to follow Pablo to school where he discovers that a 13-year-old classmate, Marta, is bullying and extorting Pablo. But resolving the affair isn't that easy and he becomes Marta's victim as well. Carlos's inability to defend himself or his son, pushes him to a series of anguished situations that would lead him to make the wrong decisions.

Admission/Cost: FREE but tickets are required, available at the Conrad Prebys Aztec Student Union ticket box from 4:30 - 7:00 PM on the night of each screening.

Location:
Conrad Prebys Aztec Student Union
San Diego State University
San Diego, CA
MAP

Dates and times: See film listings above


Keep informed about San Diego Events! Sign-up for our weekly Eblast by clicking here: Sign Me Up!
---
Today's Date
IN PRINT SINCE 2006
Music From Everywhere!

Published By:
International
Book of the Month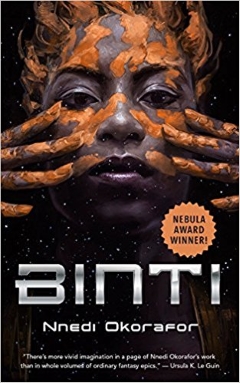 Binti
by Nnedi Okorafor
Our Staff
Section Editors, Writers and Contributors: Sharon Payne, Magdalena Buchwald Dolores Donovan, Edwin Ching, Liam Fox, Rachel Bridges, Alissa Pulmano, Annabel Avendano
Copy Editing: Eric Goldman
Associate Editors: Erin Golackson
Photography: Carlo Toribio,
Editor in Chief: Tom Johnston-O'Neill
Join Our Team!