Calendar
<
August, 2018
>
Coming Soon...
Sunday, Aug 19
All Day
Ongoing and Extended Events
9:00 AM
Summergrass Bluegrass Festival
2:00 PM
House of Hungary Lawn Program
2:00 PM
Asian Brush Painting Exhibit
5:00 PM
Music: Jonathan Leviim & Oleg Poliansky
6:00 PM
Lecture: Marcus & Amy Jaques Garvey Celebration
8:00 PM
Stage: In the Heights
8:00 PM
Stage: Hunchback of Norte Dame
8:00 PM
Stage: Much Ado About Nothing
Monday, Aug 20
All Day
Ongoing and Extended Events
6:30 PM
Film: Survivors
6:30 PM
Book Discussion: Ups and Downs on the New Zealand Road
Tuesday, Aug 21
All Day
Free Admission to Japanese Friendship Garden
All Day
Free Admission to Mingei International Museum
All Day
Ongoing and Extended Events
12:00 PM
International Day of Peace Celebration
6:30 PM
Book Discussion: Ups and Downs on the New Zealand Road
7:30 PM
Stage: Seize the King
7:30 PM
Music: Colm Keegan and Laura Durrant
8:00 PM
Music: Midnight in Paris
8:00 PM
Stage: Hunchback of Norte Dame
8:00 PM
Stage: Much Ado About Nothing
Wednesday, Aug 22
All Day
Ongoing and Extended Events
6:00 PM
Film: Love and Death
8:00 PM
Stage: Hunchback of Norte Dame
8:00 PM
Stage: Much Ado About Nothing
Thursday, Aug 23
All Day
Ongoing and Extended Events
7:30 PM
Stage: Voyeurs de Venus
8:00 PM
Film: Nil Battey Sannata
8:00 PM
Music: Rodriguez
8:00 PM
Stage: In the Heights
8:00 PM
Stage: Hunchback of Norte Dame
8:00 PM
Stage: Much Ado About Nothing
Friday, Aug 24
All Day
Ongoing and Extended Events
3:00 PM
15th San Diego International Kids' Film Festival
6:00 PM
Film: Black Panther
7:30 PM
Music: Chitraveena Concert
7:30 PM
Music: New World String Project
8:00 PM
Stage: Hamlet
8:00 PM
Film: The Lunchbox
8:00 PM
Stage: In the Heights
8:00 PM
Stage: Voyeurs de Venus
8:00 PM
Stage: Hunchback of Norte Dame
8:00 PM
Stage: Much Ado About Nothing
Saturday, Aug 25
All Day
Ongoing and Extended Events
10:00 AM
Foodie trip to Mexico
10:00 AM
La Vuelta Cultural Summer Festival
10:00 AM
Wellness and Latin Food
11:00 AM
Taste of Asia & Pacific House of Chamorros, China and Philippines
1:00 PM
Michelada Rumble
7:00 PM
Music: Nortec Collective
8:00 PM
Music: Shaila Dúrcal
8:00 PM
Stage: In the Heights
8:00 PM
Stage: Voyeurs de Venus
8:00 PM
Stage: Hunchback of Norte Dame
8:00 PM
Stage: Hamlet
8:00 PM
Stage: Much Ado About Nothing
Sunday, Aug 26
All Day
Ongoing and Extended Events
2:00 PM
House of Puerto Rico
3:00 PM
Stage: Hamlet
4:00 PM
Music: From Russia With Love
5:00 PM
Music: Carnatic Vocal Concert by Smt. Gayathri
6:00 PM
Music: Jarabe Mexicana
8:00 PM
Stage: In the Heights
8:00 PM
Stage: Hunchback of Norte Dame
8:00 PM
Stage: Much Ado About Nothing
Monday, Aug 27
All Day
Ongoing and Extended Events
Tuesday, Aug 28
All Day
Ongoing and Extended Events
7:30 PM
Stage: Seize the King
8:00 PM
Stage: Hunchback of Norte Dame
8:00 PM
Stage: Much Ado About Nothing
Wednesday, Aug 29
All Day
Ongoing and Extended Events
8:00 PM
Stage: Hunchback of Norte Dame
8:00 PM
Stage: Much Ado About Nothing
Thursday, Aug 30
All Day
Ongoing and Extended Events
7:30 PM
Film: Paheli
7:30 PM
Stage: Voyeurs de Venus
8:00 PM
Stage: In the Heights
8:00 PM
Stage: Hunchback of Norte Dame
8:00 PM
Stage: Much Ado About Nothing
Friday, Aug 31
All Day
Ongoing and Extended Events
8:00 PM
Stage: In the Heights
8:00 PM
Stage: Voyeurs de Venus
8:00 PM
Stage: Hunchback of Norte Dame
8:00 PM
Stage: Hamlet
8:00 PM
Stage: Much Ado About Nothing
Saturday, Sep 1
All Day
Ongoing and Extended Events
4:00 PM
House of Ukraine Bon Fire
8:00 PM
Stage: In the Heights
8:00 PM
Stage: Voyeurs de Venus
8:00 PM
Stage: Hunchback of Norte Dame
8:00 PM
Stage: Hamlet
8:00 PM
Stage: Much Ado About Nothing
Calendar
Maracatu Music and Dance Workshops
Brazilian Portuguese and Arts is excited to present a special event to bring us together with the purpose of learning more about Maracatu de Baque Virado and its rhythms, songs, history, dance and culture. Let's connect our percussion community and play some of the raw, powerful "baques" (rhythms) of this specific Brazilian culture originating in the northeastern state of Pernambuco.

A longtime "maracatuzeiro" (maracatu player) who is familiar with a number of different styles, songs and arrangements, Jonathan Rothman will be in San Diego over the weekend of Saturday, November 18th and Sunday November 19th.

The workshop with Jonathan, supported by Claudia Lyra and Maracatu Jangada, will be offered to all levels. He has a lot of material to share! With that in mind, we will make sure to find parts and instruments for those with less experience in the maracatu style (to focus basics of the rhythms). Experienced (intermediate/advanced) participants will develop technique and learn more complex phrases to fill out the arrangements we'll learn, which Jonathan will share from his journeys into Maracatu.

Singing is also a strong tool in his class! While we'll do some instrumental arrangements as well, many of the percussion arrangements for the workshop will fit within the structure of a song.

(If we have critical mass, we will aim to go to a local park and play Maracatu on Sunday afternoon in SD as well from 2-4 PM. We can discuss this on the event page here and confirm at the workshop on November 18th to make sure there are enough who want to do it.)

About the guest facilitator:
Jonathan Rothman is a passionate student of Brazilian music and culture. He has played Maracatu de Baque Virado for more than 10 years, including a 2017 summer intensive in his hometown, Toronto, where he deepened his study with visiting Brazilian teachers Pitoco de Airá, the Contra-Mestre of Maracatu Nação Estrela Brilhante do Recife, and Alexandre Garnizé of Rio de Janeiro's Tambores de Olokun. Jonathan started with the original Toronto group Nunca Antes (now defunct), and has played extensively with the subsequently formed Toronto groups Mar Aberto and Baque de Bamba.

Jonathan has also played with Maracatu groups in several cities in Brazil and has studied maracatu, including the styles of various nations and percussive groups, with numerous teachers and groups in Brazil and North America. He is now teaching a nine-week maracatu workshop series in Los Angeles this fall at the Brasil Brasil Cultural Centre, and he recently performed with Maracatu Pacifico in San Francisco as a guest drummer for the Dia de los Muertos parade."

Admission/Cost: $20 suggested donation.

Location:
Stage 7
3980 30th St
San Diego, CA 92104
MAP

Saturday, November 18 - 5:30 PM to 7:30 PM


Keep informed about San Diego Events! Sign-up for our weekly Eblast by clicking here: Sign Me Up!
---
Today's Date
IN PRINT SINCE 2006
Music From Everywhere!

Published By:
International
Book of the Month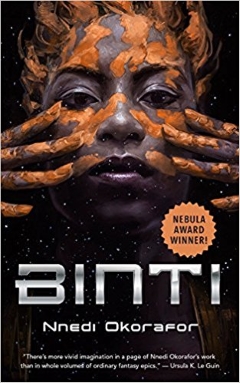 Binti
by Nnedi Okorafor
Our Staff
Section Editors, Writers and Contributors: Sharon Payne, Magdalena Buchwald Dolores Donovan, Edwin Ching, Liam Fox, Rachel Bridges, Alissa Pulmano, Annabel Avendano
Copy Editing: Eric Goldman
Associate Editors: Erin Golackson
Photography: Carlo Toribio,
Editor in Chief: Tom Johnston-O'Neill
Join Our Team!