By Misaki Suzuki, Orville Fitz-Henley and Tom Johnston-O'Neill

The month of March brings mad hares, equinoxes, famous ides, St. Patrick's Day and cherry blossoms. San Diego gets to add one more to the list: The 16th Annual San Diego Latino Film Festival!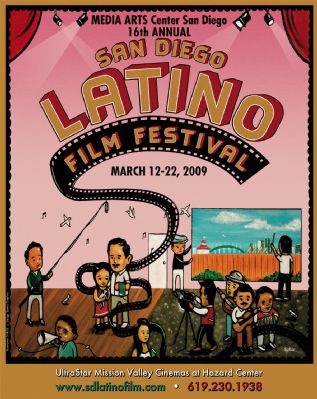 The month of March brings mad hares, equinoxes, famous ides, St. Patrick's Day and cherry blossoms. San Diego gets to add one more to the list: The 16th Annual San Diego Latino Film Festival! Our staff attended the media kick-off event to learn more about this year's festival and got the chance to meet and interview some of the stars, writers, producers and directors whose films will be showing at the SDLFF. One of the great features of the festival is that not only is there a great number of wonderful Latino films to watch, but many of the stars and directors make their way to the festival to talk about their films and their experiences making them. For many of the showings, the film's cast and director are in the audience and field questions from the audience afterwards. Audience questions are often quite thought provoking and sometimes quite passionate. Unlike what may pertain in the city directly to the north of us, it is our experience that these actors and directors are very approachable and generous with their time.

Is your Spanish not quite up to snuff, or non-existent? Afraid you will be hopelessly lost and not understand the films, the question and answer sessions or the numerous events that take place in the lobby? Not to worry, almost all the films are either in English or subtitled, and most of the question and answer and stage events are either in English or are instantly translated by the presenters or staff. Be sure to check the program notes, however, because a small number of movies are exclusively Spanish.

The term "Latino" has a range of meanings and applications, some inclusive of non Spanish speaking peoples (Brazil and the French Caribbean) in the Americas, some inclusive of Spanish speakers throughout the world and some uses of the term are more limited. This year's Latino Film Festival, as in year's past, takes a broad view and includes films set in the US, Mexico, Brazil, Argentina, Spain, Portugal, Chile, Cuba, Columbia, Ecuador, Peru, Puerto Rico, Venezuela, and even Morocco and France. So too, actors and directors cross national borders and not uncommonly a film will have a truly international cast.

The SDLFF is a part of the Media Arts Center mission to encourage community interest in film and filmmaking, with a particular, though not exclusive, focus on Latino films, culture and aspiring young filmmakers. In addition to sponsoring films, the nonprofit Media Arts Center provides equipment, services, workshops and training to promote community self-expression and social change through film and filmmaking. Of particular importance to the organization is the inclusion of and empowerment through film, communities, people and events that are under-represented by the mainstream media.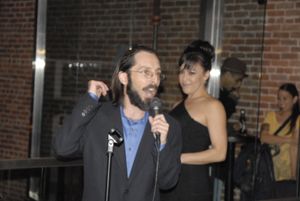 Ethan van Thillo
At the kick-off party, the Executive Director and Founder of the SDLFF, Ethan van Thillo, quipped that the festival was obviously recession-proof because this year the festival has more films than ever! This year's festival will have 169 films shot in 18 different countries. All the showings will be at the UltraStar Mission Valley (Hazard Center) theaters. Years back it was owned by the Madstone chain of theaters and when UltraStar bought it out, we were very pleased that they kept some of the "Indie" flavor of the place and they continue to host both the Latino Film Festival and the Asian Film Festival. For a pdf schedule of the SDLFF films click here, or visit the Media Art center's web site. www. mediaartscenter.org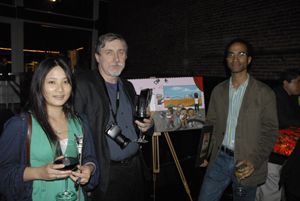 Misaki, Tom & Orville
Although there are some larger budgeted films at the SDLFF, we got a chance to sit down and talk to a few of the producers, directors and actors of movies that fit more into the "Indie" genre.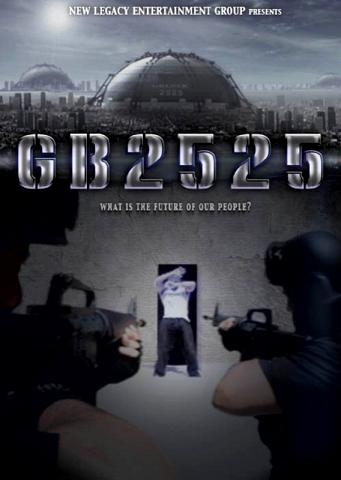 GB 2525
The producer and many of the actors of the futuristic sci-fi movie "GB 2525" were on hand to tell us a bit about their film and what they hope the audiences will take away from it. The film is a "gang" movie set in LA sometime in the future when bullets have been replaced with zapping energy weapons. The city is controlled by gangs whose members come from many cultures (but mostly Latino and Asians). A two-year truce between the gangs is shattered by an assassination, which may plunge the city into a maelstrom of violence. Only "Supa'man" and his fellow gang members can find out the truth that might stop all out gang war.

Richard Azurdia who plays a character named "Puppet"(the movie's antagonist) told us that in addition to being a guns-a-blazin' futuristic action film, the film is meant to be a meditation on today's gang situation in America. Azurdia says; "this is a movie that Hollywood wouldn't make," saying that the movie directly confronts the phenomena of gangs by seeking deeper truths about how Latinos view the world, what rationales continue gang culture and what a shadowy role the government has with regard to gangs, money and drugs. "We need to seek the truth in ourselves, our families and the people around us." He says that the film employs some classic "gang film" plot turns: betrayal, violence and familial love," but Azurdia thinks that audiences will take away a different more realistic view of today's gangs even though the movie takes place far in the future. Jossara Jinaro, the film's blaster gun leading lady (who hails from Bogotá, Colombia), more used to taking more stereotypical roles for young Latino women such as a baby sitter or waitress, says that it was great to have a role of substance, to "be a person." Want to find out more about GB2525? Check out their blog!


Still from El Pajaro Azul
On opposite end of the arc of possible movie themes is Rodrigo Reyes' short film; "El Pájaro Azul" (The Blue Bird). Filmed in Spain and Morocco, Reyes says that the movie tries to answer; "How does an artist succeed nowadays? If you are a poet, how can you be successful? How can you live in this world and still be a real artist?" The movie was made on a shoestring budget, money Reyes saved from his day job teaching English in Madrid. He says that he was lucky because there are so many unemployed actors in Spain who are willing to work for free. The young writer director says that today poetry is for many people unfashionable, and poets are laughed at. "We cannot talk about beautiful things anymore but he [Garcin the poet] does."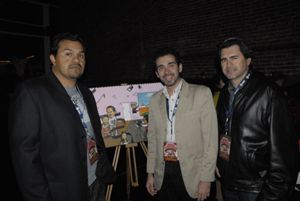 The director and Un Dia en el Banco cast members.
Many of the films in the festival are comedies. They range from darker comedies like Un Dia en el Banco (A Day at the Bank) --A bank robbery comic drama -- to lighter romantic comedies such as "A Propósito de Alexa" (About Alexa) in which Sebastian wakes up only to discover that he unknowingly got married the night before to Alexa, who isn't about to let him get off the hook so easily.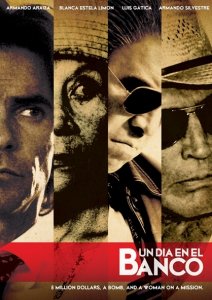 Un Dia en el Banco Poster
Un Dia en el Banco (A Day at the Bank) is a story about a lonely 66 year old woman who decides to rob a bank just to combat her boredom. Holding the entire bank and its customers hostage for the better part of a day, the ordeal allows the hostages to reflect and reexamine their lives, who they are and what they want from life. The screenplay was written in Spanish by Eduardo Schillnksy from Mexico City. For director Al Bravo, who left Mexico for the US when he was only 8, this is his directorial debut, having more experience as an actor on the other side of the lens. This is also Bravo's first film in Spanish. Al Bravo told us that he has been inspired by internationally acclaimed Mexican directors Guillermo del Toro (Pan's Labyrinth, Hellboy) and Alejandro González Iñárritu (Amores Perros, 21 Grams, Babel), not just for their artistry and skill but also because their success has encouraged Bravo to more fully embrace his Mexican heritage. However, Bravo, who wrote the English subtitles, faced a challenge in translating the comedy in the film for non-Latino Americans, used to different cultural idioms. He says he didn't want to have a literal translation of the Spanish and the Mexican cultural references, because he felt that non-Spanish speaking audiences would miss much of the humor. Al Bravo told us that the Mexican culture in the movie is not obvious, it could perhaps be set anywhere in Mexico, but added that if set in the US the film might seem implausible considering the more thorough security measures banks here take. He thought that the main character, in a US setting might simply be seen as some crazy old woman, a mere joke. Bravo said that the setting in a Cuernavaca, Mexico bank makes the movie more plausible and the main character more believable.
The San Diego Latino Film Festival embraces a wide variety of film genres; dramas, comedies, dramedies, shots, animations, documentaries and more. From big budget films featuring well-known actors to more humble first time efforts. What links all the filmmakers and actors together is not only a shared Latino heritage, but a burning desire to make seriously good films that take chances and push the possibilities across not only cultural and ethnic borders, but also artistic boundaries. If you are looking for cinematic experiences that will not only make you laugh and cry but will also challenge the very ways in which you look at life, The San Diego Latino Film Festival is the place to be.

Tickets and passes for the festival can be bought online at www.mediaartscenter.org where you can also find more information and the schedule of films.

Don't forget to arrive early for films because there are often special presentations in the lobby that you won't want to miss.

Keep informed about San Diego Events!
Sign-up for our weekly Eblast by clicking here:
Sign Me Up!