Nuestro Cine, Nuestra Vos!-Our Cinema, Our Voice!
| | |
| --- | --- |
| | With more than 160 films in this year's diverse lineup, the 24th Annual San Diego Latino Film Festival sets out to entertain, agitate and transcend borders by fusing the voices of Latino filmmakers from San Diego, Baja California and around the world. All films will be subtitled, ensuring that both English and Spanish speakers can get wrapped up in the transportative experience of the movies. The 11-day event, produced by San Diego's Non-Profit Media Arts Center, will be held on five screens at the AMC 18 Fashion Valley Theater as well as select screenings at the Media Arts Center's Digital Gym Cinema in North Park. |
By Erin Golackson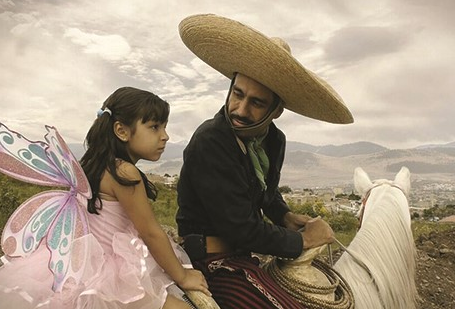 El Charro de Toluquilla
"Our theme is really about uniting everyone around the banner of cinema," says Moises Esparza, Media Arts Center's Exhibition Manager and the lead film curator for the festival. At a time when bans and border walls dominate the headlines—when people are often corralled into discrete categories of immigrant or native, citizen or alien, American or Latin American—Esparza sees the festival as a chance to celebrate unity.

"In times of extreme circumstances, what you want to do is turn to traditions that make you feel welcome. You want to feel a sense of community," he says. "So we want everyone that comes to our festival to feel that they are part of a group of like minded people who support positive and diverse Latino portrayals in media."

This year over 600 filmmakers submitted their projects. While the final selections have some common themes—such as a reliance on the power of the image and cinematography rather than on dialogue and exposition—Esparza says the films embrace a wide range of genres and perspectives. There will be comedies, thrillers, documentaries, and films both commercial and experimental.

"All film is valid." Esparza says. "Whether its mission is to be really experimental or avant-garde—or to put a smile on your face. Everything is fair game." Films organized by genre, locale and theme make up 18 showcases within the larger film festival. These include Cine Gay, Viva Mujeres! (films by Latinas, about Latinas), Focus on Brazil, Documania!, ¡Tu Cine! (high school and middle school films), Un Mundo Extraño ("Strange World" films about emotions some might rather not explore) and many more. Audiences will have the opportunity to discuss what they have watched with filmmakers and stars after many of the screenings and can also mingle with directors, producers, and actors at the opening and closing night galas.

Though the festival includes films from all over Latin America, the United States and Spain, the team selecting films this year wanted to provide an strong platform for local filmmakers from San Diego and Tijuana. Films in the Frontera Filmmakers showcase are all created by local artists—and the festival's screening committee believes each to be a "triumphant cinematic accomplishment." Their work highlights the talent and shared culture of our region, from one side of the border to the other.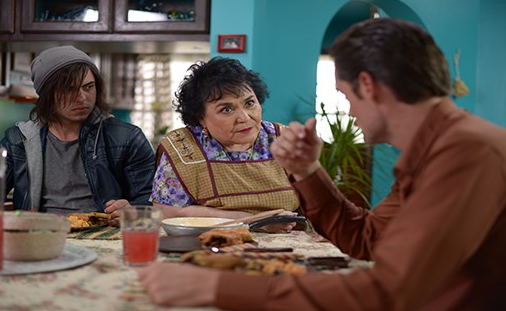 Ruta Madre
Ruta Madre, the opening film this year and part of the Frontera Filmmakers showcase, explores the experience of life at the border in a whimsical, feel-good comedy. Joey Molina—the inspiration for the story as well as a co-writer and producer of the film—describes it as a "wild odyssey with many twists and turns." It begins in San Diego and takes the audience on an epic road trip through Baja California as the young hero discovers his Mexican roots and himself.

"We really wanted it to be a representation of being here at the border, of being binational, being American, being Mexican. We wanted this to be our story, and we wanted it to be everyone's story," says Molina.

While the film takes place at the border, he says it's not political. "The purpose of this film is this: Let's focus on love, let's focus on family. Let's just take a deep breath and go on a magical journey." He wants everyone—not just Latinos—to walk out of the theater feeling uplifted.

Nuvia Ruland, one of the teachers that led 45 students at High Tech High in Chula Vista in producing the documentary Beyond the Crossfire, has a different hope for their audience.

"My hope is that everybody leaves agitated from watching the film," she says, to nods from three now-college students who worked on the documentary in high school. They hope their documentary, which explores the causes of violence in America as well as concrete solutions, will motivate viewers to take action in some small way.

Troubled by violence in their school and in the headlines, as well as by Ms. Ruland's own experience with losing a loved one, six-year-old Avielle Rose-Richmond, in the Sandy Hook shooting in Newtown, Connecticut, the project was their way of taking action. "That really is the birth of this project—being able to heal and mourn the loss of Avielle," Ruland says.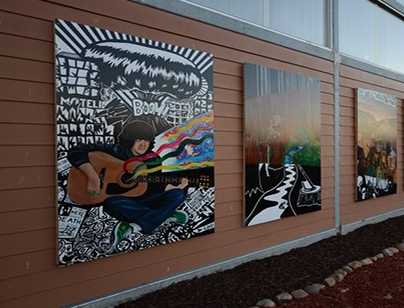 Beyond the Crossfire
One of the goals of the Latino Film Festival's parent organization, the Media Arts Center, is to empower local communities and youth to tell their stories through film. With Beyond the Crossfire, Media Arts Center connected the students with local filmmakers who taught them about research, cinematography, editing and the tools they needed to create a powerful documentary.

"We wanted to really show our community, especially our Latino community, that these young people have solutions. And they have so much to offer to the community," says Ruland.

The Chula Vista students traveled to Newtown, Chicago, San Antonio and Los Angeles to film organizations and programs that successfully work to reduce violence—and they grew a lot along the way, too.

"It has become something that I'm really passionate about," says Shayne Cole, one of the student directors. "It's a part of me in a way because we worked on it for such a long time, and we met people who are a part of these communities and got to give them a voice. Their stories will always be with me and with us, I think."

The process taught student Michael Berry about making connections with people, as well as the technical side of documentary film making. "For me it's relevant as a channel for my passions, which are politics and political action," he says.

Another student, Karen Villalbazo, says she doesn't plan to continue in film, but the project has helped her in other endeavors. "I'm an intern at my school's LGBT resource center, and the lessons that I learned throughout the documentary have really helped. Just being able to understand. How do you know systemic oppression is going on? What do we do about it? And how do you connect to people?" She feels equipped to answer these questions now, and confident that young people like herself can make a difference when it comes to complex problems like violence in communities. Beyond the Crossfire screens on March 18th and again on March 26th.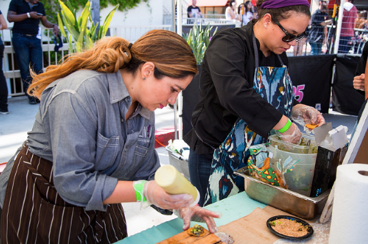 Sabor Latino Food, Beer and Wine Festival
The San Diego Latino Film Festival seeks to showcase talent and impassioned art from both sides of our border, and its second annual Sabor Latino Food, Beer and Wine Festival will be no exception. On March 18th at Fashion Valley Mall, some of the best chefs, brewers and winemakers from San Diego and Baja will—much like the filmmakers—share art, both savory and sweet.

Chef Atura Alvaro, who carefully tasted and selected all of the food and drink, says when it comes to food, the relationship between California and Mexico is simple. "Mexicans love American food, and Americans love Mexican Food. That's just the way it is... The Latino culture melts really well with American Culture. We need from each other."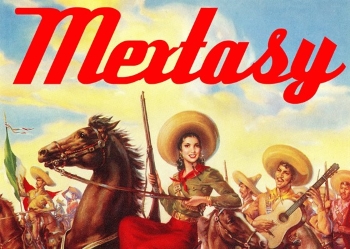 Mextasy
The cross-border symbiosis that Chef Alvaro describes is also a central theme to a new television series called Mextasy, which premiers at the festival on March 20th.

"It's almost erotic, the connection between Mexico and the United States," says William Nerucio, host and co-creator of show. He says Mextasy is about the ecstasy of being Latino without apology. Each episode showcases brilliant but unknown Latino/Latina artists, scientists, intellectuals and entrepreneurs.

"Narcos exist," he says. "But HBO has that covered. Netflix has that covered. This show is all about looking at intelligence and imagination."

While Mextasy focuses on the living Latino culture that transcends the Americas and the world in the 21st century, Nerucio's other television show for PBS—Latin X-Ray—narrows in on the special alliance between Southern California and Northern Mexico. To him, it's a relationship strengthened by fantasy.

"People go to Mexico to lose themselves in the dream of Latino culture. And Mexicanos, they see the United States as some kind of gateway to prosperity… Both of the dreams are just filled with nightmares. But we keep crossing because we want the dream."


The films showing at this year's San Diego Latino Film Festival vary in style and perspective, but one element unites them all, which Joey Molina summed it up when musing about his own film, Ruta Madre.

"With our film and all the other films you're going to see, there's an element of passion. This is a life's work, a passion project—these are babies that we as filmmakers bring to the audience."

He has been coming to the festival for years, and says there is gold in these films—so much to learn and discover. "That's why I think it's so important to support these tremendous filmmakers and films," Molina say. "And I'll tell you what, you won't be disappointed."



Proceeds from the Latino Film Festival and Sabor Latino all support the Media Arts Center and its educational and outreach programs.
For tickets, a full lineup of films and more information about the festival, check out the Participant Observer Calendar Entry HERE.
Keep informed about San Diego Events!
Sign-up for our weekly Eblast by clicking here:
Sign Me Up!