This is a re-publication of an earlier article, stay tuned for updates on this year's Comic-Con!

It's called "Comic Con International." Just how international is our city's largest annual convention that The Union Tribune has called "A United Nations of Nerds"?

By Tom Johnston-O'Neill
Convention Photos by Shari Johnston-O'Neill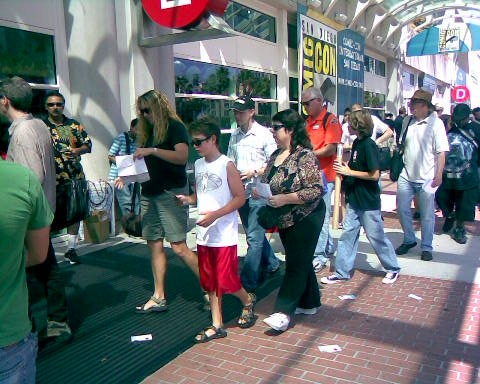 This week marks the return of "Comic Con International" to San Diego. Comic Con is the largest gathering of its kind in the world. Although Comic Books are the oldest and still an essential aspect of the convention, nowadays that focus is shared with television and movie cartoons as well as fantasy, horror and science-fiction books, video games, television shows and movies.

Comic Con began life in 1970 in the basement of the Grant Hotel and was originally called the "Golden State Comic Convention." The first year of the convention drew 300 attendees. Last year (2006) 123,000 wide-eyed participants enjoyed the annual four day event. The name of the convention changed several times over the years and in 1995 the present name, Comic Con International was adopted.

Although American comics and cartoons have a long, formative and international following, until recently comic books have been stigmatized as being only suitable "for children." The switch from reading comic books to "serious literature" no doubt was seen as a rite of passage for many boys and girls that heralded their transformation into adults. The term "graphic novel" was coined by Richard Kylie in 1964 to differentiate European "serious" comics from their juvenile counterparts in America. The term did not catch on until the late 1970's perhaps due to the fact that most people thought of "graphic novels" quite differently. It is now a popular description for any "comic book" style work of more serious and adult subject matter. This year's convention has a panel devoted to (which might prove contentious) discussing whether or not comics should be considered "literature".
Manga often has a strong appeal to young women.
Throughout the world comic books and graphic novels are enjoyed by a wide range of ages. The most popular form of comics outside of the U.S. are Japanese manga (and their Chinese and Korean variants). The word manga literally means "whimsical pictures." While the present general form of manga developed shortly after WWII its artistic roots date back several centuries to the ukiyo-e artistic tradition. Modern manga blend ukiyo-e wood-block styles with Euro-American styles of illustration. In Japan manga are enjoyed by wide range of Japanese social classes and age groups. It is very common to see riders on the trains of Japan reading the latest edition of their favorite manga. Anime is the video version of manga comics. Many anime films are based on Manga and nowadays it is not uncommon to also find manga based on anime films. Both Chinese and Korean comics (manhwa) resemble Japanese manga.
| | |
| --- | --- |
| Manga and anime are now hugely popular in America and the styles that they embrace represent one of the most sustained and vital influences in the world of comics. Anime is also increasingly popular and there are several popular American cartoon shows that are imported from Japan. In some cases (for example, Shin Chan) are licensed by American production companies who dub in English voice-overs that are only vaguely based on the original Japanese scripts. Specifically Japanese cultural content and proclivities are often dispensed with by American writers. In the original Japanese episodes of Shin Chan, the main character, from who the show takes it title, is a kindergarten aged boy who constantly annoys and frustrates all the adults in his life with outrageous and sometimes sexually perverse behavior and not easily translatable linguistic malaprops. Comic examination of contemporary social issues are frequently part of the mix. The American re-writers of the series make no attempt to capture the social commentary and linguistic hijinks of the origin Japanese dialogue but instead limit their renderings to the cruder and less sophisticated aspects of the original show. Japanese pop culture references are replaced with American ones like Jessica Simpson and Martha Stewart. As the American version of Shin Chan is produced in Texas many of the voice-over actors have hints of Texan accents! | City Hunter |
| | |
| --- | --- |
| | In France and Belgium comic books are known by the acronym "BD," which is an abbreviation for Bande Dessinee (trans. "drawn strip"). "BD" are often taken quite seriously by adults -- even scholars -- and are sometimes referred to as le neuvième art or "the ninth art." One recent acclaimed example that that has been translated into English is Marjane Satrapi's "Persepolis" which chronicles the troubled and tragic modern history of Iran. While this graphic novel is not without humor (mostly centered around the absurdities of politics) its underlying message and critique is neither frivolous nor juvenile. However, not all French comics are serious. Perhaps the most internationally known comic books from France is "Asterix" which follows the exploits of a village of ancient Gauls who resist Roman occupation. While most of the Asterix books are set in a tiny village, on occasion the heroic and often comical villagers sally forth to other European places, Egypt, India and even America (long before Columbus!). The Asterix books have been translated into over 100 languages. |
British and Italian "comic books" are mostly in a magazine format. Italian "fumetti" editions are typically more than 100 pages in length. In America the term "fumetti" refers to either "photo novels" or comics that employ toy models, but in Italy the term embraces all forms of "comics." Both British and Italian comics are often quite risqué and Italian ones can be unabashedly erotic.

In Argentina and elsewhere in South America, "comics" are mostly focused on commentary and political satire although comics that focus on normal everyday life have been growing in popularity. Perhaps the most famous Argentine "comic strip" is "Malfalda" written and illustrated by Quino. Malfada was a six year old girl who is very concerned with politics, contemporary events and human rights. She also loved the Beatles and hated soup. At this years Comic Com I spoke with several authors who have their comic books illustrated by Argentinean artists.

In the Philippines, comics are known as "komix." Older komix were modeled on American comic styles, but recently they have been also influenced by Japanese manga styles. At one time as many as 40% of Filipinos read komix but that number has dwindled due to the rising popularity of other media forms. Many Filipino illustrators have become top illustrators for mainstream (Marvel and DC) comics and animated features produced in the U.S.


Although South Asian Indian comics are still highly influenced by American comics and often feature American heroes and characters (Archie comics in particular are hugely popular), in the late 1960's the Amar Chitra Katha comic books were launched featuring stories based on traditional Hindu, Buddhist, Jain and Sikh texts. The 1980's saw the arrival of the popular comic magazine "Tinkle" which embraces more contemporary stories about Indian life.





Asterix
This foregoing is only a brief sketch of the importance, cultural distinctiveness and popularity of "comics" and "graphic novels" outside of the US. Unfortunately Comic Con International, despite it's title does not yet fully embrace "the wider world of comics."
Other than Japanese Manga, only a few of the hundreds of panels and events of the 2006 Comic Con were in any way related to non-American comics, books or films. Notable exceptions were panels on the work of Britain's John Wagner (Judge Dredd), France's Jean Claude Mèzières (Valerian) and one panel entitled: "Graphic Novels: The Universal Language" which featured several non-American creators from around the world. The huge exhibition hall, where hundreds of comic book, manga, anime, horror, television and film companies, authors, artists and came to hawk their creations was even less international than the workshops and seminars.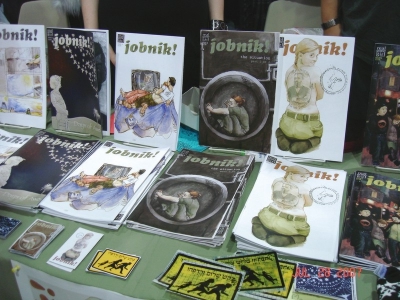 Other than the upscale presentations of Japanese manga and anime [creations] and their Korean variant (manwha) very few vendors presented creations that are set in "foreign" places or feature non-American characters. Exceptions were the books by "Real Gone Girl" Miriam Libicki who has created autobiographical angst-filled books about her personal odyssey of her time in Israel where under the gleeful patriotic pressure of her fellow kibbutzers joined the IDF where her innocence and illusions were shredded by the tragic absurdities and mundanities of politics and war. Due to their serious adult content, Libicki's modestly produced books (8 ½ X 11, black and white stapled) fall firmly in the realm of graphic novels.
| | |
| --- | --- |
| Deb Aoiki, a Japanese-Hawaiian-American comic strip writer (who now resides in Northern California) was on hand exhibiting collections of her humorous slice of life "Bento-box" strips. Her strips often play with Hawaiian, Japanese and more "Anglo-American" cultural interactions. Ms. Aoki says that the strips title, "Bento-Box," is reflective of "lots of different kinds of things ..It's kind of Japanese but also very Hawaii-kine too." | |



Stuart Ng is a collector and merchant of comic and graphic novel art. In 2006 he had a large booth dedicated to rare and out of print (as well as some newer ones) books, prints and sketchbooks that feature illustrations of high artistic merit. Many of Ng's books are imports and not surprisingly, many he collects and sells are French. Ng got his start in the business by importing the requisite artwork of Claire Wendling, now his inventory contains thousands of works from all over the world. Numerous artists and illustrators will be at Ng's booth signing works including: Pierre Alary, Ashley Wood,
Ruben Procopio, Jakob Jensen, Renaud Dillies and Romain Hugault.

| | |
| --- | --- |
| David Heredia hails from the Dominican Republic. He emigrated to New York City and then moved to Los Angeles. Heredia says that when he arrived in LA he was astonished both by how different spanish speaking people were there and also about how little people knew about Caribbean islands. Seeking to bring enlightenment to people about the rich diversity of Spanish-speaking nations, he began producing cartoon posters which he calls Colores De Nuestras Culturas(Colors of our Culture) which depict the cultural uniqueness, histories and musical traditions of the world's nations. Originally dedicated to Spanish-speaking countries, Heredia is expanding the series to include other cultures and peoples. David Heredia Designs include posters, T-shirts, murals, comic strips and commisioned illustration. | David Heredia |
The "problem of representation" that inhibits the appreciation of the diversity of comic styles and traditions found throughout the world is not just a matter of a lack of inclusion of comic books or graphic novels from elsewhere in the world. In spite of the overflowing creative efforts to "create worlds" those worlds seem to be more often than not based primarily on American sentiments, cultural proclivities and social values (or the upending of the same) despite the fact that the rest of the "real world" is over-brimming will alternate views of reality. Even when fantasy creations are set in futuristic or extra-terrestrial worlds, they often mirror (or distort) contemporary American socio-cultural lifeways.

Another impediment to the full appreciation of the international aspect of "comicdom" is the fact that many mainstream, small press and television animation owe their existence to a global army of talented illustrators whose creative role and importance is under-acknowledged. For instance, the graphics for the popular TV shows "The Simpsons" and "Family Guy" are produced in South Korea.
Will the 2007 Comic Con International proving to be more representative of the wider world of comic creations, more worthy of the suffix "international"? Unfortunately little seems to have changed . No doubt the international potential of the convention is hampered by logistics and the cost of long distance travel and the rising bureaucratic difficulties foreign nationals have in visiting America. But the organization could perhaps do a better job at promoting the rich diversity of comic creations found through out the world.

This year there will be over 400 hundred seminars, workshops, panels, films and events, and like last year only a small handful are in any direct way related to international comic creators and creations. But there are some bright spots worth mentioning.




A Friday night session, called "Lost in Translation" will have a panel composed of internationally acclaimed artists and writers (again mostly associated with manga) who will talk about the rising importance (and sales-topping position) of "foreign entertainment". Most of the remaining events that are embracing of cultural diversity have been relegated to Sunday, which is now known as "children's day." Not such a bad idea, since a more robust cultural awareness and sensitivity, should start at a young age! Sunday events, include a full day of international films for children. There will also be panel on the new Nickelodeon series: El Tigre: The Adventures of Manny Rivera led by the show's creators and co-executive producers Jorge Gutierrez and Sandra Equihua.
For a more serious academic look at international currents in comic creation, there will be a Sunday panel called "Cultural Continuity" that will look at the cultural sources and influences on particular comics and how faithful (or subversive) such creations are to their cultural roots. Also on Sunday the actor Nicholas Cage and his son Weston will be on hand to discuss their new series of comics, "Voodoo Child" under the Virgin Comics banner which developed from a collaboration between San Diego's own mind-body mega guru Deepak Chopra, the Indian film director Shekar Kapur, and the English entrepreneurial billionaire Richard Branson. Voodoo Child is set in post-Katrina New Orleans. Virgin Comics has a booth this year and some of the comics they are featuring are modern retellings of stories based on Indian and Hindu epic mythology replete with extremely contemporary styles of artwork.


So does Comic Con earn its claim to be international or should it be more properly taken as being mostly "bi-national" (American/Japanese)? "Sequential Art" is found all over the world, at Comic Con one can find examples of this "wider world of Comics", but one has to really look. I hope that in years to come Comic Con will find a way to give more attention to the "international" aspects of comicdom. Doing so will add greater nuance and maturity to this increasingly popular genre of illustrated literature.



by Tom Johnston-O'Neill

Convention Photos by Shari Johnston-O'Neill

Keep informed about San Diego Events!
Sign-up for our weekly Eblast by clicking here:
Sign Me Up!