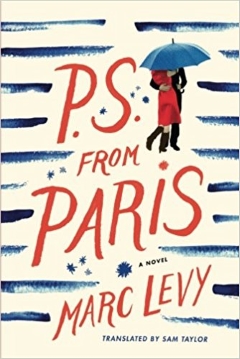 Buy at Amazon
The Participant Observer Book of the Month is P.S. From Paris by Marc Levy

From Marc Levy, the most-read French author alive today, comes a modern-day love story between a famous actress hiding in Paris and a bestselling writer lying to himself. They knew their friendship was going to be complicated, but love—and the City of Lights—just might find a way.

Marc Levy delivers the true-to-life essence of the buildings and food that make Paris the world's most beautiful city. The Opera House, the cafés, the restaurants, the hotels, the stores, and the River Seine leap off the page. The descriptions of the food can almost be tasted. If you cannot go to Paris in person, this book is the next-best thing.

"Breezy and fast-paced, this romantic comedy is a bonbon of delicious, albeit mostly empty, calories." Kirkus Reviews

On the big screen, Mia plays a woman in love. But in real life, she's an actress in need of a break from her real-life philandering husband—the megastar who plays her romantic interest in the movies. So she heads across the English Channel to hide in Paris behind a new haircut, fake eyeglasses, and a waitressing job at her best friend's restaurant.

Paul is an American author hoping to recapture the fame of his first novel. When his best friend surreptitiously sets him up with Mia through a dating website, Paul and Mia's relationship status is "complicated." Falling in love in Paris should be easy, but unlucky Mia and Paul come with more baggage than their suitcases.