Calendar
<
February, 2017
>
Coming Soon...
Sunday, Feb 19
All Day
Tribute to the Reggae Legends
All Day
Ongoing and Extended Events
All Day
San Diego Jewish Film Festival
10:00 AM
Exhibition: From the Great War to the Grosvenor School
11:00 AM
San Diego Film Week
2:00 PM
Stage: 2.5 Minute Ride
2:00 PM
Stage: To Kill a Mockingbird
2:00 PM
San Diego Civic Dance Arts Collage
2:00 PM
Stage: The Matsuyama Mirror
2:00 PM
Stage: An Iliad
2:00 PM
Stage: Picasso at the Lapin Agile
2:30 PM
San Diego Ballet: Ritmos Latinos
7:00 PM
9th Annual Brasil Jazz Festa
8:30 PM
Carnaval Celebration at Cafe Sevilla
Monday, Feb 20
10:00 AM
Voice Your Language Multilingual Forum
10:00 AM
Exhibition: From the Great War to the Grosvenor School
6:00 PM
Dornob: Music of Iran
6:30 PM
Indian Cooking Class
Tuesday, Feb 21
All Day
Free Admission to Mingei International Museum
All Day
Free Admission to Japanese Friendship Garden
All Day
Ongoing and Extended Events
10:00 AM
Exhibition: From the Great War to the Grosvenor School
11:00 AM
Exhibition: African American Art 'Impressions'
7:00 PM
Picasso at the Lapin Agile
7:00 PM
Opera: Falstaff
Wednesday, Feb 22
All Day
Ongoing and Extended Events
1:00 PM
African American Art 'Impressions'
6:00 PM
Post-Castro Cuba: Impressions from Former National Security
7:00 PM
Picasso at the Lapin Agile
7:30 PM
International Guitar Night
7:30 PM
Stage: The Matsuyama Mirror
8:00 PM
Music: Miguel Zenón Quartet
Thursday, Feb 23
All Day
Ongoing and Extended Events
9:30 AM
Talk: The Challenge of Unity and Diversity Within Islam
10:00 AM
Exhibition: From the Great War to the Grosvenor School
1:00 PM
African American Art 'Impressions'
6:00 PM
Celebrating African-American Women In The Arts
7:00 PM
Stage: 2.5 Minute Ride
7:00 PM
Stage: Bocon
7:00 PM
Stage: Blue Door
7:30 PM
Film: Le Confessioni
7:30 PM
The Villalobos Brothers
7:30 PM
Stage: The Matsuyama Mirror
8:00 PM
Stage: Picasso at the Lapin Agile
Friday, Feb 24
All Day
Ongoing and Extended Events
7:00 AM
Stage: Bocon
10:00 AM
Exhibition: From the Great War to the Grosvenor School
7:30 PM
Stage: Eurydice
8:00 PM
Stage: The Illusion
8:00 PM
Stage: Blue Door
8:00 PM
Stage: Picasso at the Lapin Agile
Saturday, Feb 25
10:00 AM
World Thinking Day
11:00 AM
Japanese Brush Painting Art Exhibition
2:00 PM
Stage: The Illusion
2:00 PM
Stage: Bocon
2:00 PM
Stage: Picasso at the Lapin Agile
4:30 PM
Odissi Dance School Recital
7:30 PM
Stage: The Matsuyama Mirror
7:30 PM
Stage: Eurydice
7:30 PM
Stage: To Kill a Mockingbird
8:00 PM
Irving Flores Latin Jazz Quartet
8:00 PM
Stage: 2.5 Minute Ride
8:00 PM
Music: The Chieftains
8:00 PM
Stage: Blue Door
8:00 PM
Stage: Picasso at the Lapin Agile
8:00 PM
Stage: The Illusion
9:00 PM
Brazil Carnival Mardi Gras
11:55 PM
Japanese Film: My Neighbor Totoro
Sunday, Feb 26
All Day
Ongoing and Extended Events
11:00 AM
Japanese Film: My Neighbor Totoro
11:00 AM
Japanese Brush Painting Art Exhibition
2:00 PM
Stage: 2.5 Minute Ride
2:00 PM
Stage: In White America
2:00 PM
Opera: Falstaff
2:00 PM
Stage: Blue Door
2:00 PM
Stage: An Iliad
2:00 PM
Stage: Eurydice
2:00 PM
Stage: Picasso at the Lapin Agile
2:00 PM
Stage: The Illusion
3:00 PM
Music: Camarada: Flamenco Unveiled
5:30 PM
Flamenco Festival
6:00 PM
Stage: Bocon
7:00 PM
Stage: Vogage: The Slave Journey
7:00 PM
Stage: The Illusion
7:00 PM
Picasso at the Lapin Agile
8:00 PM
Chinese New Year Banquet
Monday, Feb 27
All Day
Ongoing and Extended Events
11:00 AM
Exhibition: African American Art 'Impressions'
6:00 PM
Gallowglass Collective: Music and Dance of Ireland
Tuesday, Feb 28
All Day
Ongoing and Extended Events
11:00 AM
Exhibition: African American Art 'Impressions'
7:00 PM
Stage: In White America
7:00 PM
Picasso at the Lapin Agile
Wednesday, Mar 1
All Day
Ongoing and Extended Events
1:00 PM
African American Art 'Impressions'
7:00 PM
Stage: The Illusion
Thursday, Mar 2
8:00 PM
Stage: Picasso at the Lapin Agile
8:00 PM
Stage: The Illusion
Friday, Mar 3
All Day
Ongoing and Extended Events
8:00 PM
Stage: Women In Parliament: A Reinvented Greek Comedy
Saturday, Mar 4
All Day
Ongoing and Extended Events
2:00 PM
Stage: Women In Parliament: A Reinvented Greek Comedy
2:00 PM
Stage: Picasso at the Lapin Agile
8:00 PM
Stage: Picasso at the Lapin Agile
8:00 PM
Stage: Women In Parliament: A Reinvented Greek Comedy
8:00 PM
Stage: The Illusion
(Book of the Month) — (Book Club)

The Participant Observer Book of the Month is:
A Whole Life
by Robert Seethaler
Written by a Vienna-born author living in Germany, translated by an Englishwoman and shortlisted for the 2016 Man Booker Int'l Prize, A Whole Life (2016) is an international best-seller. Set in the mid-twentieth century and told with beauty and tenderness, the novella is a story of man's relationship with an ancient landscape, of the value of solitude, of the arrival of the modern world, and above all, of the moments, great and small, that make us who we are. The protagonist, Andreas, knows every path and peak of his mountain valley, the source of his sustenance, his livelihood—his home.
The hero, Andreas, is a man of few words. "Talking meant attracting attention, which was never a good thing." As a small boy in an alpine village, Andreas is taken in, reluctantly, by a local farmer, his mother having led "an irresponsible life." He grow up, always in the mountains, lives through avalanches, sees children die of diphtheria, falls in love. He leaves the valley only once, to fight in the Second World War; he is captured and imprisoned in Russia. At the end of the war he returns to the mountains, and watches modernity begin to invade their timeless beauty. His life is a simple one, but his mission grand: humanity's search for dignity.—Dolores Donovan

• "…a compact work of grace and beauty"—The Wall Street Journal
• "…the [book] is slim; but it is never slight."—The Economist 1843 Magazine
• "…a reminder that joy can be found in daily toils and simple pleasures."—Booklist
• "…moments of genuine wisdom and restrained poetry."—Sunday Telegraph
•"Deeply moving." ―Sunday Times

View Bookstore Full Page
Keep informed about San Diego Events!
Sign-up for our weekly Eblast by clicking here:
Sign Me Up!
Today's Date
IN PRINT SINCE 2006
Music From Everywhere!

Published By:
International
Book of the Month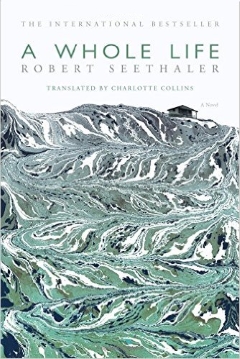 A Whole Life
by Robert Seethaler
Our Staff
Section Editors, Writers and Contributors: Sharon Payne, Kira Nolan, Ayoolah Folarin, Megumi Choi, John Figg, Dolores Donovan
Assistant Editor: Erin Golackson
Copy Editor: Helen Kaufmann
Promotions: Vivian Wang,
Photography: Shari Johnston-O'Neill
Editor in Chief: Tom Johnston-O'Neill
Join Our Team!