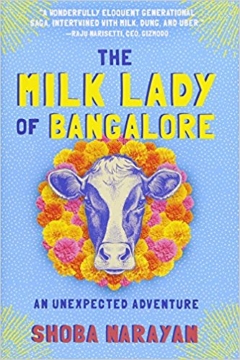 Buy at Amazon

The Participant Observer Book of the Month is The Milk Lady of Bangalore: An Unexpected Adventureby Shoba Narayan

A placid female smoothed Shoba Narayan's re-entry to India when she moved with her husband and young daughters to Bangalore — southern India's tech hub and finance center — after nearly 20 years in the United States. That female was a cow, whom she encountered in her building's elevator, "angled diagonally to fit," heading three floors up to bless a housewarming.

"You'd think that a modern democracy like India would get over this cow obsession," she thought, amused; but after mulling it over, she hustled upstairs to ask the cow to bless her apartment, too. The friendship Narayan struck up with Sarala, the cow's escort, forms the subject of her amiable memoir. At first, Narayan was wary of the earthy, grassy-smelling unpasteurized milk Sarala sold, produced by cows that grazed in the neighborhood. Before long, though, she became an "evangelist," inviting neighbors over for coffee in hopes of converting them to fresh milk. Soon she resolved to buy a cow to donate to Sarala's herd, scouring nearby villages for a candidate. "This is a good cow," the owner of a Holstein-Friesian assured her. "Its milk will taste like ambrosia." Sold. As her new acquisition munched betel nuts, coconut and bananas, Narayan decided the creature was "positively Zen" and named her "Blissful Lakshmi," for the goddess of wealth.