Calendar
<
September, 2019
>
Coming Soon...
Thursday, Sep 19
All Day
Ongoing and Extended Events
4:00 PM
Talk: Is America Facing an Immigration Crisis?
7:00 PM
Diplomacy Council Annual Fundraiser and Anniversary Party
7:00 PM
One Book, One San Diego Launch
7:30 PM
Film: The Soul And The Blood
8:00 PM
Stage: Hershey Felder as Monsieur Chopin
Friday, Sep 20
All Day
Ongoing and Extended Events
8:00 AM
Discussion: Innovation in the Cali Baja Region
10:00 AM
Talk: Magritte & Surrealist Works
5:00 PM
Talk: A Journey into Magical Realism
6:00 PM
Film: Coco
7:00 PM
Music: Volver, Volver II
7:00 PM
Comedy: Pambansang Kolokoy, Boss Ka-Reppa, and PinoyEgoy
7:00 PM
Stage: Disney's Mulan Jr.
7:00 PM
Iranian Film: Nahid
7:30 PM
Stage: Mama Mia!
7:30 PM
Russian Ballet: Swan Lake
8:00 PM
Stage: The Winter's Tale
8:00 PM
Stage: Hamlet
8:00 PM
Stage: Intimate Apparel
8:00 PM
Stage: Hershey Felder as Monsieur Chopin
Saturday, Sep 21
All Day
Ongoing and Extended Events
9:00 AM
25th Annual Pacific Islander Festival
10:00 AM
Vista Viking Festival
10:00 AM
Adams Avenue Street Fair
12:00 PM
Taste Of South Park
12:30 PM
Dance: Harvest Festival
2:00 PM
Stage: The Winter's Tale
2:00 PM
Filipino Traditional Music & Dance Demo & Workshop
2:00 PM
Stage: Hershey Felder as Monsieur Chopin
3:00 PM
Stage: Intimate Apparel
4:00 PM
Book Discussion: Halal If You Hear Me
5:00 PM
Sewa Annual Dance Fundraiser
7:00 PM
Film: Vincent, The True Story Of Vincent Van Gogh
7:00 PM
Comedy: IM Hussein
7:30 PM
Stage: Mama Mia!
8:00 PM
Jewish Short Film Festival
8:00 PM
Music: Patrizio Buanne
8:00 PM
Music: Bamboo Una Mas
8:00 PM
Stage: Hamlet
8:00 PM
Stage: The Winter's Tale
8:00 PM
Stage: Intimate Apparel
8:00 PM
Stage: Hershey Felder as Monsieur Chopin
Sunday, Sep 22
All Day
Jewish Short Film Festival
All Day
Ongoing and Extended Events
9:00 AM
25th Annual Pacific Islander Festival
10:00 AM
Adams Avenue Street Fair
12:00 PM
Tianguis De La Raza (Artisan Market)
12:30 PM
Dance: Harvest Festival
2:00 PM
Stage: Mama Mia!
2:00 PM
Stage: Intimate Apparel
2:00 PM
Stage: The Winter's Tale
2:00 PM
Stage: Hershey Felder as Monsieur Chopin
3:00 PM
Stage: Hamlet
4:00 PM
Music: The Pirates Of Penzance
6:00 PM
Music: Lucibela, Cape Verde's Voice-of-Gold
7:00 PM
Staged Reading: King Lear
8:00 PM
Music: Herb Alpert and Lani Hall
Monday, Sep 23
All Day
Ongoing and Extended Events
Tuesday, Sep 24
All Day
Ongoing and Extended Events
1:00 PM
Film: Moka
7:30 PM
Rom-Com Rendezvous Rendezvous with Sonali Dev, Alisha Rai . . .
7:30 PM
Stage: Hershey Felder as Monsieur Chopin
Wednesday, Sep 25
All Day
Ongoing and Extended Events
6:30 PM
Film: Coco
7:30 PM
Stage: Hershey Felder as Monsieur Chopin
Thursday, Sep 26
All Day
Ongoing and Extended Events
4:00 PM
Film: The Icebox
6:00 PM
Soaring Eagles Pow Wow Dance Class
6:00 PM
Music: Southern Scratch
7:00 PM
Stage: Noura
7:30 PM
Stage: Intimate Apparel
8:00 PM
Stage: Noura
8:00 PM
Stage: The Winter's Tale
8:00 PM
Stage: Hershey Felder as Monsieur Chopin
Friday, Sep 27
All Day
Ongoing and Extended Events
7:00 PM
Stage: Just Like Us
7:00 PM
Japanese Film: Late Spring
7:30 PM
Music: Alejandro Sanz
7:30 PM
Stage: Mama Mia!
8:00 PM
Stage: Man of La Mancha
8:00 PM
Stage: Noura
8:00 PM
Stage: The Winter's Tale
8:00 PM
Stage: Hamlet
8:00 PM
Stage: Intimate Apparel
8:00 PM
Stage: Hershey Felder as Monsieur Chopin
Saturday, Sep 28
All Day
Ongoing and Extended Events
10:00 AM
North San Diego Latino Book & Family Festival
11:00 AM
San Diego Cabrillo Festival
2:00 PM
Stage: Hershey Felder as Monsieur Chopin
3:00 PM
Stage: Intimate Apparel
3:30 PM
Film: Island Soldier
7:00 PM
Stage: Just Like Us
7:30 PM
Stage: Mama Mia!
8:00 PM
Film: Yesterday
8:00 PM
Stage: Noura
8:00 PM
Stage: The Winter's Tale
8:00 PM
Stage: Hamlet
8:00 PM
Stage: Man of La Mancha
8:00 PM
Stage: Intimate Apparel
8:00 PM
Stage: Hershey Felder as Monsieur Chopin
Sunday, Sep 29
All Day
Ongoing and Extended Events
8:00 AM
San Diego International Dragon Boat Race
1:30 PM
Book Signing: Iris Yang
2:00 PM
Stage: Man of La Mancha
2:00 PM
Stage: Just Like Us
2:00 PM
Film: The Taming of the Shrew
2:00 PM
Stage: The Winter's Tale
2:00 PM
Stage: Mama Mia!
2:00 PM
Stage: Intimate Apparel
2:00 PM
Stage: Hershey Felder as Monsieur Chopin
3:00 PM
Stage: Hamlet
5:00 PM
Music: Bho Shambo
6:00 PM
Film: Aladdin (2019)
7:00 PM
Music: Maná
7:00 PM
Stage: Noura
7:30 PM
Music: Maná
Monday, Sep 30
All Day
Ongoing and Extended Events
6:00 PM
Oktoberfest Beer, Cheese & Sausage Tasting
Tuesday, Oct 1
All Day
Ongoing and Extended Events
7:30 PM
Stage: Hershey Felder as Monsieur Chopin
Wednesday, Oct 2
All Day
Ongoing and Extended Events
7:00 PM
Stage: Noura
7:00 PM
Stage: Just Like Us
7:30 PM
Stage: Man of La Mancha
7:30 PM
Stage: Hershey Felder as Monsieur Chopin
San Diegans no longer have to travel 100 miles North to Artesia in order to experience the richness of Indian cuisine and culture. Little India on Black Mountain Road encompasses the Indian spirit in every way. Located on Black Mountain Road, a block north of Miramar Road, Little India consists of a number of restaurants and stores that act as a haven for South Asians and anyone else who enjoys Indian food and culture.

By Lakshmi Appachar
Photos by Jayanth Mandayam & T. Johnston-O'Neill
2013 Article Update by Akshata Yerdoor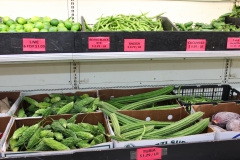 Vegtables at Bombay Bazaar
Little India Center, popularly known as "Little India," began as a single grocery store that provided essential supplies for Indian cooking. The mall has now expanded into a collection of shops that includes several restaurants, an Indian fashion shop, a dance studio, a center for yoga, and a Hindu temple. People of Indian origin living in San Diego will tell you that this mall is one of their most frequented places.

The Essential Ingredients for Indian Cuisine

The original Little India grocery store no longer exists, taking its place is the far larger Bombay Bazaar, a great source for pantry essentials needed to create splendid authentic Indian cuisine. A wide variety of spices, lentils, rice, flours used in Indian breads like naan and roti, and vegetables exclusively used in Indian cooking are just a few of the items available at Bombay Bazaar. India is a culturally-diverse country and cuisines vary greatly from region to region and the store carries an array of fragrant spices and condiments used across India. The store also sells frozen foods like shredded coconut, roti dough and South Indian dosa (similar to a crepe) batter mix. Frozen vegetables like drumstick, snake gourd, ladies finger (a.k.a. okra), bitter gourd, and curry leaves can be purchased at the store. For those of us who love Indian sweets, the store also sells ready-to-prepare packages of a number of sweet treats like gulab jamoon and rasmalai.
Delicious Indian Food from all over the Subcontinent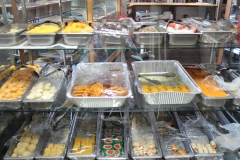 Surati Sweets
Little India has a line of restaurants that serve delectable food from cuisines all over India; Gujarat, Tamil Nadu, Andhra Pradesh, Karnataka, Uttar Pradesh and Punjab.

Surati Farsan Mart, tucked in the heart of Little India, is the ideal place to try a variety of Indian tea-time snacks such as kachori, samosa, vada pav, masala puri and the ubiquitously popular bhelpuri. The names of these snacks might be unfamiliar, but once you give them a taste, you will surely come back for more. Many of the dishes available at Surati Farsan are unique to Gujarati style of cooking. Don't miss the piping-hot masala tea, a brew of Indian tea and milk—the perfect accompaniment to everything savory and spicy. If you want to try a really tasty and spicy hot dish, try the Mysore Masala Dosa; but be warned, it's hot and not for the faint-hearted!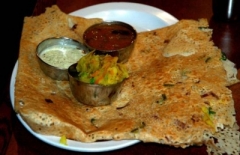 Madras Café is located at the entrance of Little India, this restaurant specializes in South Indian food, which is quite different from the North Indian cuisine that Americans are more familiar with. There's more to this versatile cuisine than just a plate of dosa. Sambhar-Idli, a combination of steamed rice cakes with lentil soup, will definitely impress and satisfy your palate. Tamarind Rice and Bisi Bele Bath (also a rice dish) are fragrantly spiced and served with a side of Indian style yogurt (aka "curd"). Most of the dishes listed on the menu feature rice, lentils and a variety of vegetables that are mild to medium spiced. If you have never tried South Indian "filter coffee"—a blend of dark roast coffee and chicory—you can try it at the Madras Café.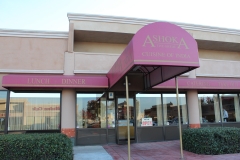 Ashoka the Great
Ashoka the Great primarily serves traditional North Indian vegetarian and non-vegetarian delicacies ranging from curries to tandoori dishes. The ambience and décor of the restaurant reflects a rich Indian culture and heritage. While the restaurant offers a diverse lunch and dinner buffet, customers can also select individual dishes from the menu. Customers can enjoy complimentary papadams are served with a tangy and hot chutney whil they peruse the menu. Appetizers include popular items like samosas and vegetable fritters (pakora). Tandoor delicacies like paneer tikka and chicken tandoori, cooked in a tandoor oven (a domed oven), are served sizzling hot. For the main course, curries—both dry and gravy based—is best savored with either rice or bread. No meal is complete without a dessert and sweets like Mango kulfi and kheer will leave you craving for more.

| | |
| --- | --- |
| Bawarchi Dosa offers a wide variety of the quintessential South Indian crepe, dosa. Ranging from crispy masala dosa (where the dosa is paper-thin) to specialty versions such as uthappam dosa, all dosas are served with coconut chutney and a sambhar lentil soup. The restaurant's offerings is not limited to vegetarian dishes. Non-vegetarian delicacies like Chicken Tikka Masala and Chicken Chettinadu, smothered in spicy gravy, are examples of the diversity that is found in Indian cuisine. Shrimp Masala and "Fish Fry" will mesmerize seafood lovers. In addition to the wide variety of dishes found in the menu, you can also explore the lunch and dinner buffets. | Bawarchi Dosa |



Bombay Fashions

Exquisite Indian Clothing and Jewelry

Bombay Fashions is a purveyor of fine Indian clothing and jewelry. The store carries a large selection of traditional Indian attire like kurta, ghaghra, salwar kameez, and saree (or sari). These garments are often embellished with intricate beadwork and often feature spectacular embroidered designs. In addition to clothing, you accessorize with fine Indian jewelry and colorful hand-woven bags.
Classical and Contemporary Indian Dance
Rhythm Studios provides instruction in both classical and contemporary Indian Dance. Music and dance is an integral part of Indian culture. Every dance form has its own regional flavor and tied to many traditions, ceremonies and festivals. Rhythm Studio conducts classes and workshops for classical dance forms, ranging from elegant Kathak from North India to the devotional Bharatnatyam performed in the South of India. The studio also offers classes for Indian folkdance exhibiting more local styles of dance. Rhythm Studio also offers Bollywood dance instruction, a form of dance which fuses Indian classical and western dance styles.



Yoga and Meditation Center

Learn Yoga

The Yoga and Meditation Center in Little India offers instruction for various levels of yoga postures and breathing techniques. Yoga dates back to ancient times and is essentially a form of exercise that unifies the body and mind. Studies have shown that yoga can alleviate stress and increase physical strength leading to a sense of overall well-being. The center organizes group classes for enthusiastic learners of all ages. If you can't attend the scheduled classes, they also have workshops on weekends.
Shri Mandir Hindu Temple
The Shri Mandir Hindu temple sponsors many ceremonies and programs that are open to the public. Devotees and their families flock to the temple on major Indian festivals like Ganesha Chaturthi, Deepavali, and Dusshera. While many temples in India are dedicated to particular gods or goddesses, Shri Mandir has shrines with effigies dedicated to a wide range of dieties and even has a shrine dedicated to Buddha.
Keep informed about San Diego Events!
Sign-up for our weekly Eblast by clicking here:
Sign Me Up!
Today's Date
IN PRINT SINCE 2006
Music From Everywhere!

Support Our Mission
Buy Stuff at Amazon!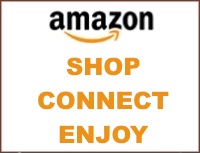 Published By:
Music of the Month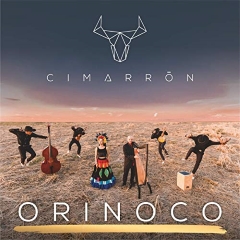 Orinoco
by Cimarrón
Participant Observer Contributors
Section Editors, Writers and Contributors: Sharon Payne, Dolores Donovan, Edwin Ching, Liam Fox, Ana Alvarez
Spanish Translations: Ana Alvarez, Programming: Hera Siddiqui
Associate Editors: Christa Parrish
Editor in Chief: Tom Johnston-O'Neill
Orgs and Causes in San Diego
Join Our Team!